For over 75 years, Egan Company has committed to providing exceptional service and keeping our promises to our customers, no matter the time of day nor the severity of the need. When a fire destroyed part of Burnett Dairy Cooperative's Grantsburg, Wisc. plant this summer, Egan was consulted immediately to develop a plan to get the plant fully operational as soon as possible.
UNDER AN 'AS SOON AS POSSIBLE' DEADLINE
Known for producing award-winning, high-quality cheese products for over 120 years, and with customers waiting for products in their stores, the need to get the plant fully operational as soon as possible was of utmost importance. Working around the clock, multiple Egan crews comprised of six different trades partnered with Burnett Dairy and additional contractors to demolish and rebuild the infrastructure that was damaged in order to get the production lines back up running.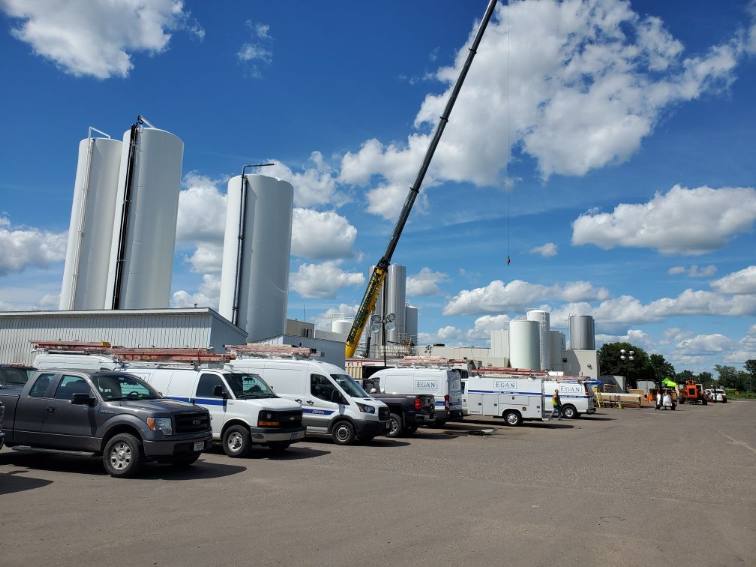 "We've worked with Burnett Dairy for the past few years and have formed a strong relationship," said Dan Reintjes, Egan Company Project Manager. "When the call came in that we were needed to help after the fire, we were there as fast as possible to get the infrastructure and production lines in perfect working order again."
The fire is believed to have started in the boiler building, which will require a complete rebuild. In the meantime, a temporary operation was conceived and constructed to ensure cheese production and assembly continued. Egan's process controls team worked late into the first night getting power to three of the plant's electrical services and started a complete demolition of the fourth 2000 amp 5-section service gear which was then designed, built, installed and operational in nine days. The ammonia compressors were also powered up with generators on the first day in order to get Burnett Dairy's warehouse coolers running to save all the products that were already produced. Egan's Mechanical team worked to make damaged piping safe and get temporary water piping installed as well as planning for a temporary boiler installation.
Egan was one of the contractors that was onsite within 18 hours of the fire trucks leaving the scene and didn't leave until the plant was fully operational," said Dave Gaiser, Burnett Dairy Cooperative CEO. "With their help, Burnett was able to get our retail store back open within a few days so we were able to open for the weekend after the fire. Within seven days, they assisted with getting one of our packaging lines operating so we could package cheese from other manufacturers and begin shipping to our customers. Egan worked 24/7 coordinating with other contractors to get Burnett running within two months of a fire impacting all utilities servicing the plant.
Beyond the initial scope of work that was completed to get the plant operational, additional projects were finished in order to restore complete operation to the plant. Egan engineers designed and programmed a new control system for the milk transfer and CIP systems that were lost in the fire, and additional electricians were tasked with installing new power distribution panels and feeders as well as installing the new milk transfer and CIP control panels and interconnect wiring.
Working alongside the controls electricians, Egan's Mechanical trades were tasked with setting up the temporary, 900 horsepower self-contained boiler. The team was also responsible for hydro testing and repairing all existing piping to ensure functionality and safety due to the fire.
BACK UP AND OPERATIONAL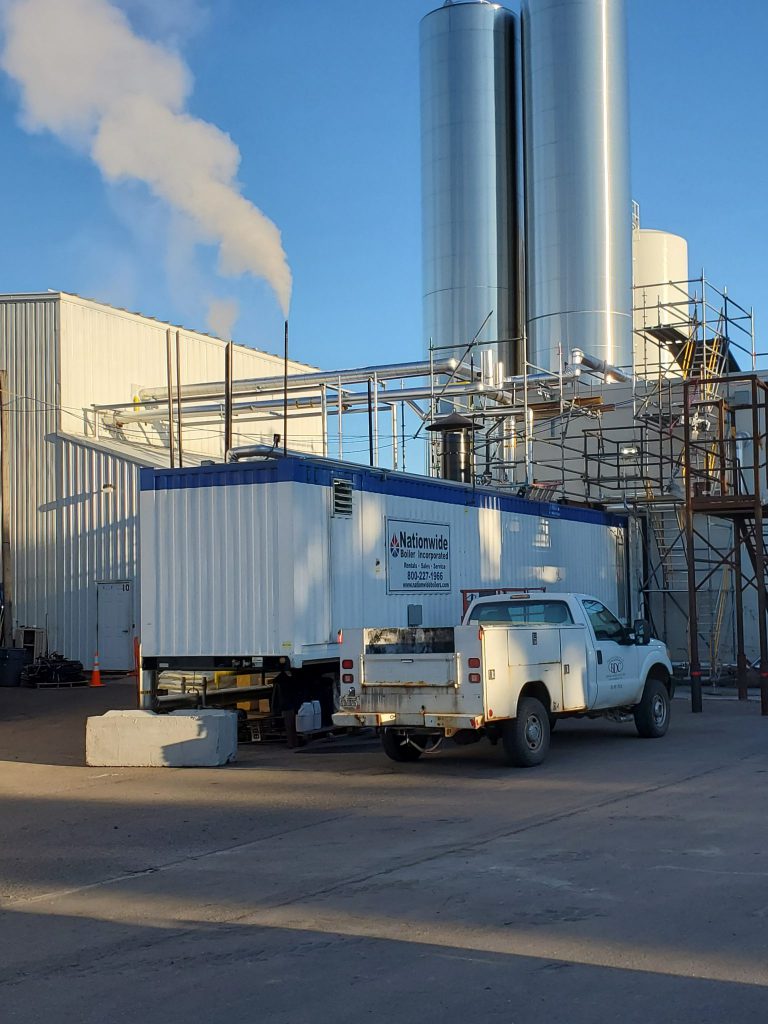 The plant was back up and operational in 62 days, processing milk from 150 farms, and bringing 300 people back to work.
Burnett Dairy is currently operating with a temporary boiler trailer in place and due to the work of many contractors working within a tight timeline. Next steps for the plant include the design, engineering, and construction of the new boiler building; Egan's full-time maintenance presence at the plant will continue, and any additional help the site needs as it starts the process of rebuilding from the fire.
"Egan is a valuable business partner and the accomplishments of the past couple of months would not have been possible without them," said Gaiser.
MULTI-TRADE PROJECT TEAM
35 Egan onsite electricians
15 Egan controls and mechanical engineers contributed to the needed design and engineering
31 Egan plumbers, pipefitters, and sheet metal workers were onsite
5 limited energy technicians delivered network installations with all new data cabinets and cabling for the plant
10 control panel technicians built eight U.L. 508A control panels on a tight turnaround