Below the 2.4 million square foot office tower and retail building sits a tight-knit team, focused on energy efficiency and continuous monitoring.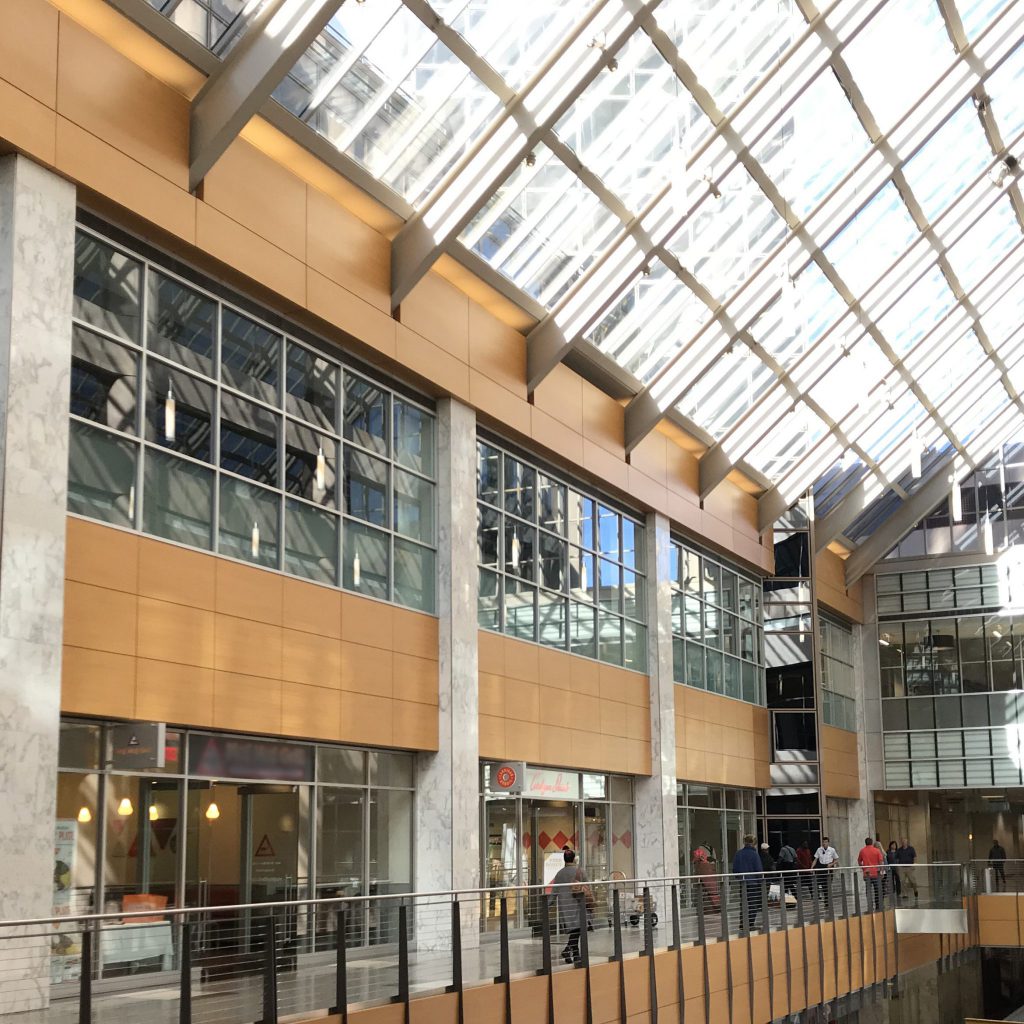 Located in the "center" of Minneapolis, the 33 Tower / City Center building is a Class A high-rise. At nearly 40 years old, its unique layout includes a retail mall, skyways, parking garage, and tower–the fourth tallest in Minneapolis. Prominent tenants include Target Corporation, Korn/Ferry International, and many other well-known organizations and retail stores.
In the corner of the lower-level space hangs a fitting sentiment: "Hail to the Chief". Chief Engineer Tim Stefans has been with the building since 1980. He, along with his team of engineers, is committed to world-class building management procedures for energy efficiency and water efficiency standards.
There is not another building of this nature in the city of Minneapolis," said Stefans, "and with this building, everything we do is about quality.
Best of the Best Energy Standards
Being in a class of its own, 33 Tower / City Center quietly boasts two impressive accolades: Certified LEED Platinum and an ENERGY STAR® Score of 97.
The Certified LEED Platinum distinction is the highest mark of quality and achievement in green buildings. According to The U.S. Green Building Council's LEED (Leadership in Energy and Environmental Design) program, "LEED certification means healthier, more productive places, reduced stress on the environment by encouraging energy and resource-efficient buildings, and savings from increased building value, higher lease rates and decreased utility costs."
Additionally, 33 Tower is an ENERGY STAR® certified building. The certification, backed by The U.S. Environmental Protection Agency (EPA) is described as, "certified buildings save energy, save money, and help protect the environment by generating fewer greenhouse gas emissions than typical buildings."
Twelve years ago, the engineering team began benchmarking energy performance to measure and track the building's energy, water, and/or waste and materials usage. It uses the ENERGY STAR Portfolio Manager® tool, which has become the industry standard for rating a facility's energy performance. 33 Tower's 2020 ENERGY STAR score is 97, which means it's more efficient than 97% of comparable buildings.
33 Tower has even received national recognition; two years ago, the building earned itself the title of "most energy efficient in the nation".
Value of Team Longevity and Common Goals
33 Tower / City Center was ten years old when Egan Company (Building Control Group) was introduced to work on a small-scale project, in support of a desire to pay attention to energy and reinvest in the building.
Now locally managed by Ryan Companies, Inc, the building's ownership went through a phase of rapid change. However, in the over 25 years working together, the building's engineering team—along with the Egan team—has largely remained unchanged.
As long-standing partners, the teams at 33 Tower / City Center and Egan Company have a relationship built on trust and a shared goal: to improve the building's sustainability and continuously evaluate building performance. Through this shared care about monitoring through the years, Egan trades have worked on systematic replacement of older systems and equipment, software/hardware updates, lighting upgrades, as well as technology design and function.
Among many who have worked with the team for nearly two decades, Egan Company Account Manager Brett Rasmussen started working onsite as a field technician in 2003. "Our long standing relationship has been built on understanding expectations and performing to them," said Rasmussen. "Egan has a great working knowledge of this building and what is expected and needed for it to run efficiently. The building is not very forgiving, and a small error can translate to a big problem with such a large facility. But we also have some of the best field personnel in the industry. That, combined along with our experience and understanding of this building, whatever hurdle gets thrown at us, we make it disappear. Ultimately, we work hard to keep it running at a level that speaks for itself."
The Egan team has become so much of an extension of the building team that at many times, there's such a seamless level of work that Stefans and his team don't experience disruption when Egan is working in the building. Referring to the latest project, Stefans adds:
I've got to tell you, we didn't even know Egan was in the building. We didn't even know—that's how integrated this is. Now that's phenomenal. I mean, if there's a 10, these [Egan] guys are an 11. Rob LeMay, Ross Keane, Alex West, Aaron McDonough, Lawrence 'Doc' Bush, Jon Wall, and Dan Aberwald . . . they're phenomenal. Ridiculously phenomenal.
Room to Improve Energy Efficiency
To further improve energy efficiency in 2020, the plan was set to migrate legacy technology to 21st century controls.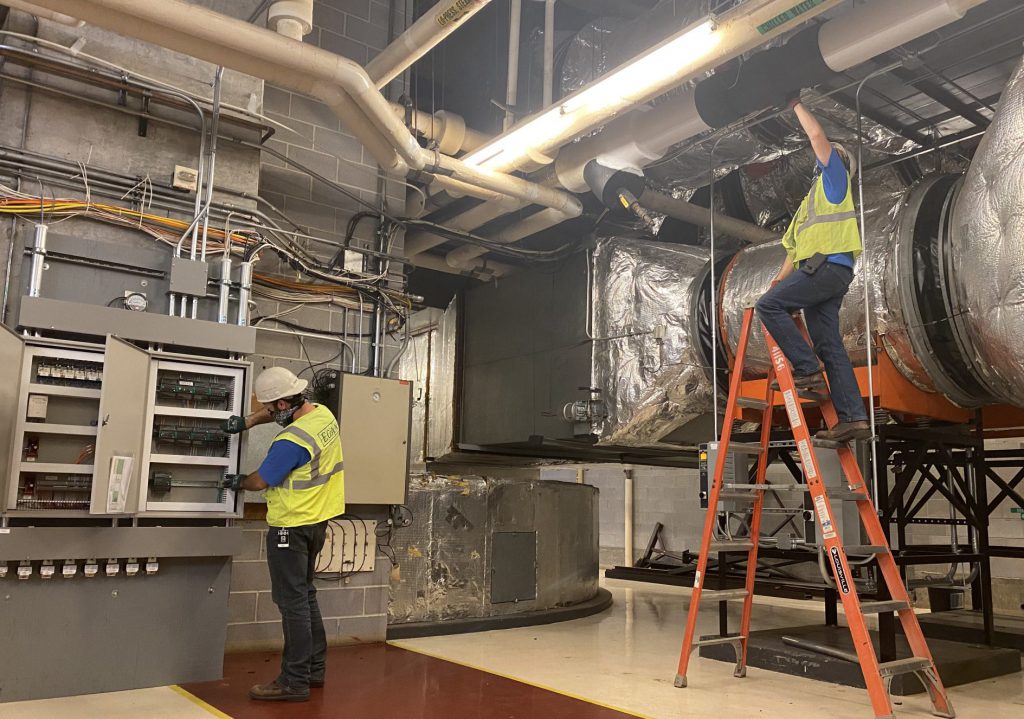 "For as long as I've ever been doing this, there's never been a more complex job than what we've done in the last year. Really, nothing has ever been this complex and working through how to marry this new system," Stefans shares, referring to the interactions between technology, building systems, the geometry of building, and the connected structures (skyways and newly-built hotel).
As equipment moves toward obsolescence, Egan looks for opportunities to bring new technology and design to the table. As a result for 33 Tower / City Center, this year's project was a large-scale retrofit representative of the need for modernization. And while projects like this provide a long term solution to a hardware problem, they also provide a means to improve efficiencies to positively impact the bottom line.
Read more about Egan's recent project in upgrading the 33 Tower / City Center's building automation system from I/Net controls to EcoStruxure >