News
KEEPING OUR PROMISES AS ONE EGAN COMPANY
July 8, 2020
If you've been in the industry a while, you may remember a few of our former names – Egan Companies or The Egan Companies. If you've really been in the industry a while, you might recall our original name, Egan & Sons Plumbing and Heating Company which was founded by Joseph Egan and his sons Bill and Costney.
For 75 years, Egan Company has offered an array of specialty trades and professional services across the industry; and for many of those 75 years, the diverse skills and trades were divided into a number of individual companies and brands. Egan Company as we know it today is only 15 years old!
Over the years, Egan diversified and merged with existing mechanical, electrical, automation, technology, controls, and a number of other specialties. Each specialty then had its own unique brand. The brands below consolidated to one corporate identity Egan Companies, Inc. in 2002 before evolving to simply become Egan Company years later:
Egan Mechanical Contractors, Inc.
Egan-McKay Electrical Contractors, Inc.
Egan Automation, Inc.
InterClad, Inc.
E&S Insulation Co.
The Egan Companies
This consolidation and positioning triggered an opportunity to develop a new brand promise and logo that would encompass all of Egan's specialty trades and services—and represent the only company in our local markets with capabilities and services that are unmatched by anyone.
Fun Facts: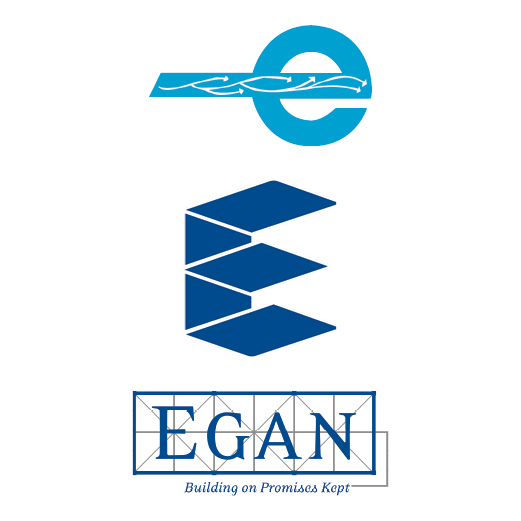 Egan's old familiar logo was the letter "E" constructed of two triangles and three rectangles. Depending on the entity, the logo was either black, red, green, blue, or maroon and was the Egan brand for almost twenty years.
The base of our current Egan logo was formed by three grids that represent the mechanical, electrical and systems business functions. This joined frame structure emphasizes the fact that each of our business groups is dependent on the others working together and doing its separate and combined job to support the Egan brand. Supported by this grid base, EGAN stretches across all three grids linking them together as one.
To ensure our dedication to our customers and community was highlighted as well, a new tagline was added, Building on Promises Kept. This reflects our long history of building in the Midwest and our commitment to keeping our promises, always. It serves to remind us to focus on the integrity of doing what we say we will do and when we will do it each day. It also serves to communicate to everyone who sees our logo that Egan stands behind our word, our promises.