News
Building Optimization with an Intelligent System
July 25, 2020
Internet of Things (IoT) is a concept of connecting the computing equipment and smart devices within one location with other locations and equipment across the world—providing a giant network of connected devices and objects into one centralized hub. It's possible to connect something as small as a light bulb to something as big as an entire building's operation. These concepts aren't new, but have taken time to come to fruition. Due to advances in technologies, ease of implementation, and a higher return on investment, this is quickly changing.
Advanced Monitoring, Maintaining, and Reporting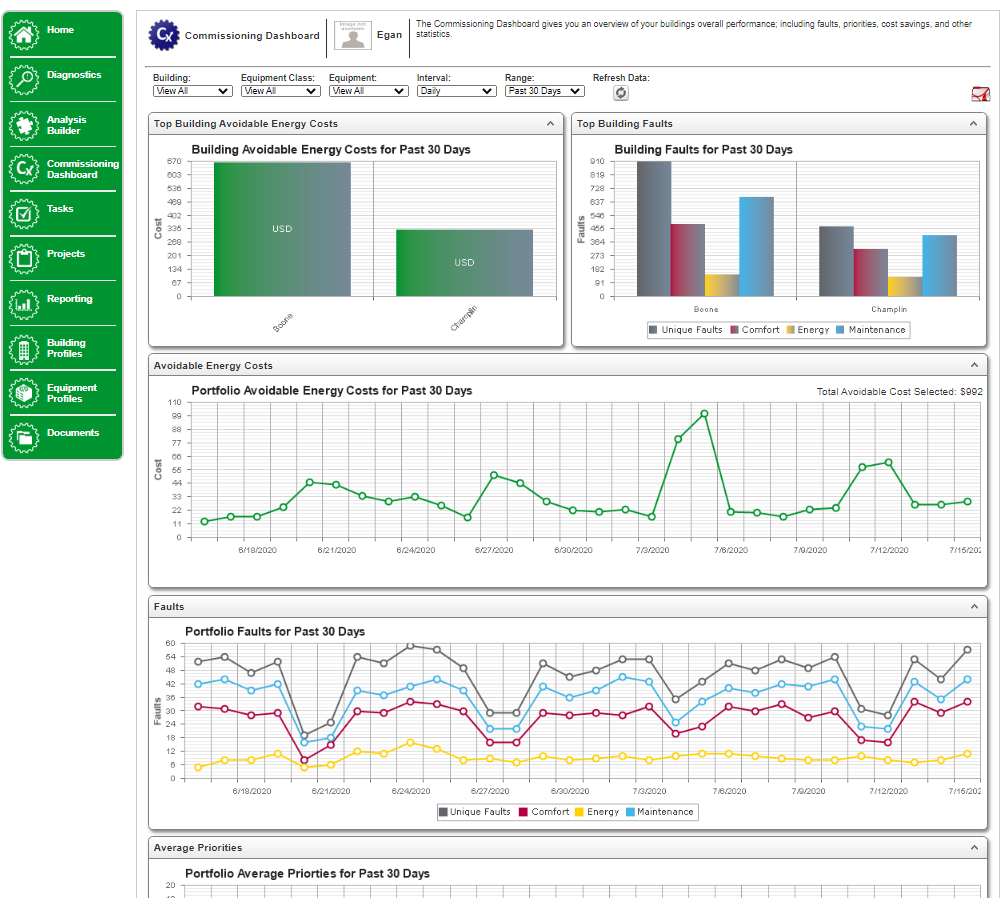 Schneider Electric recently introduced EcoStruxure Building Advisor, an intelligence system for buildings. As an integrator, Egan Company implements this system and provides consultations to facility managers. Building Advisor can provide:
Monitoring of equipment failure
Insights into energy consumption and mechanical cost-saving initiatives
Improved building efficiency by working with an engineering team
In the past, it used to take an experienced facility manager years to understand and optimize building performance. Now, the introduction of this technology makes it possible to gain immediate insights into a building's inefficiencies, drifts from optimal parameters, and potential equipment failure that can all be used to quickly improve the bottom line, enhance operations, and provide a better working environment.
Typically utilizing the current building automation system infrastructure of sensors and control equipment, EcoStruxure Building Advisor analyzes the operation of a facility and provides the facility manager with detailed information about equipment operation. In addition, this information is scored as to its impact on the energy, comfort, and maintenance of a diagnosed issue. Coupling this information with utility and equipment data, Building Advisor will estimate the current bottom line impact on a deficiency and the potential return on investment for system improvement.
Reducing Operating Expenses for Optimal Experience
Constant monitoring of building expenditures will also reduce costs through early identification of equipment failures or inefficiencies. Monitoring equipment abnormalities will predict likely failure (and provide solutions to fix it before it does). By being proactive in identifying equipment failure, facility managers will reduce downtime experienced by occupants and make for less expensive repair costs and reduced occupant impact.
This technology doesn't just provide a list of failed equipment and temperatures outside of range, but ongoing access to an energy engineer, working with the facility team to address the issues found, recommend solutions, and provide accountability and support. Continual commissioning of a building is required to maintain peak operation.
Our customers are always looking for innovative ways to reduce operating costs, and if we can cut costs on their monthly utility bill without the expense of tenant comfort, I'd say that's a win," said Kirk Wahlstrom, Egan Company Building Automation Manager. "We've piloted EcoStruxure Building Advisor at our own facilities and have benefited from the insights. We're excited about growing this technology to help our customers not only reduce downtime and cost but improve their building's value.
.
As technology continues to grow and evolve, facility managers—like the rest of the world—will need to continue heavy investment into IoT. These trends and technologies are here to make our lives easier, comfortable, and more secure.
For more information about EcoStruxure Building Advisor, view this 3 minute introduction video >> or request a demo to explore more about how this technology might be implemented in your facility.