News
COVID-19: PLAN, DO, CHECK, ADJUST
July 27, 2020
Egan's preparedness and response during a global pandemic
Social distancing. Quarantine. Essential and nonessential. Adapting to COVID-19, over the last several months, has meant quickly adjusting to changes in all areas of our lives. It has put us in a place to define a "new normal". For over 75 years, the heart of our business has been to provide skilled trades, professional services, and 24/7 response under all circumstances. Along with the rest of the world, we now know what "under all circumstances" means in the midst of a global health crisis.
While modifying the way we approach our business, Egan Company has continued its daily operations to meet customer needs without losing sight of our highest priority of keeping our employees and trade partners safe under new and heightened safety measures that would not have even been a consideration just a few short days and weeks before. "In early March, we had to act quickly to ensure the safety of our employees and their families as well as respond to the new guidelines and necessary safety precautions on all jobsites and in all offices," said Duane Hendricks, Egan Company President & CEO.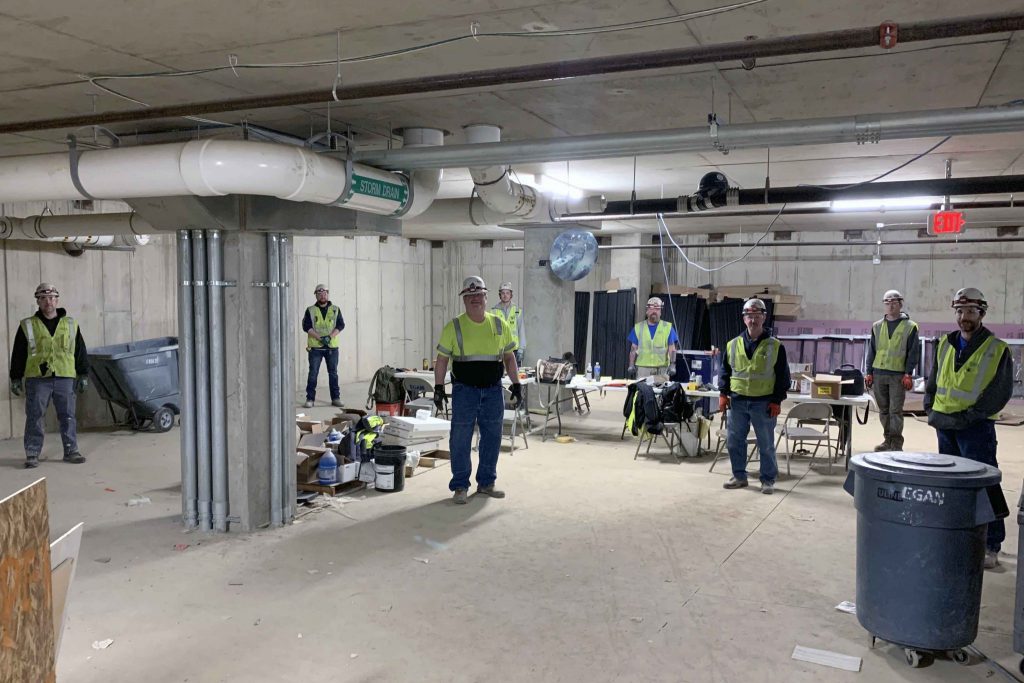 During the season of "Stay Home" Executive orders, the construction and skilled trades industry was deemed an essential service as critical to maintaining the health and safety of Minnesotans by Governor Tim Walz. With three offices, shops, and hundreds of jobsites, Egan continued to perform a large part of its work in providing specialty trades to customers. However, this hasn't happened without challenge and a necessity to think differently. Through a mix of new precautions, remote work, leaner approaches, workforce reductions and furloughs, the response to COVID-19 has demanded focus. About 70% of Egan's workforce reports to a jobsite or customer facility to perform work each day. For these frontline employees and crews, working remotely isn't an option and "six feet apart" is difficult. But the focus remains: ensuring all employees work in a safe and healthy environment, regardless of where the work is performed.
Four months in, the COVID-19 pandemic continues its evolution. In June, the State of Minnesota published requirements that all critical sector businesses need to develop and implement a COVID-19 Preparedness Plan. Access a copy of the Egan Company COVID-19 Exposure Prevention, Preparedness, and Response Plan below.
Like other companies, we're still responding and adjusting to the many changes occurring every day, as well as adapting to a new way of working and being there for our customers," said Hendricks. "In place of our face-to-face interactions, we've found new ways to connect by phone and online video calls to continue prioritizing and building relationships.
.
There's no doubt this pandemic will mold our future. And there will be key influences, including the importance of human interaction as well as thinking differently about buildings and building systems. Preparing customers and facilities for future occupancies could take on various different looks like: touchless fixtures, modified mechanical and HVAC systems, technology and building analytics, and even sanitizing lighting. Embracing these opportunities of what may lie ahead, we remain steadfast with the core priority of keeping those we value safe and healthy.
"In the last few months, we've learned that we can continue to meet customer needs, have productive remote employees, and maintain successful and positive jobsite environments during this unprecedented time," said Hendricks. "As we navigate the future with COVID-19, we'll continue to plan, do, check, and adjust, but our dedication to the safety and well-being of our employees, customers, and their families has been our top priority for 75 years, and will remain our priority for another 75 more!"
Additional resources and articles