75 Years of Building on Promises Kept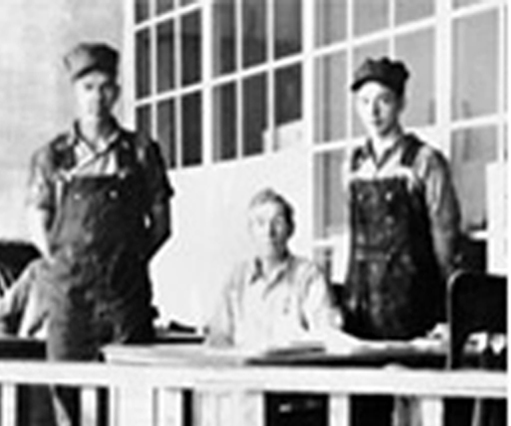 The story of Egan Company is one of grit, growth, and an unwavering passion for the trades and construction industry.
Before our 12 trades, 1,200 employees, countless valued customers, and four locations, there was one man in a single room pipe shop on the Northern Minnesota Iron Range. The year was 1905 and Joseph Egan was ready to put his dreams into motion.
While his new business thrived, the country and the world continued to be unsettled. Change was coming, war was on the horizon, building materials were short, and enlisting was the expectation. The small business would eventually have to wait. After ebbing and flowing for decades between serving our country and raising a family, the dream of running a business full-time was restored. And in 1945, with $3,000, Joseph and his sons Bill and Costney (eventually, younger brother Jerry as well) opened their doors in the Twin Cities – Egan and Sons Plumbing and Heating Company was officially founded.
Craftsmen and innovators by nature, the vision of our founders is still very much a part of today – to deliver high-quality craftsmanship and innovative solutions while upholding the promises we make to our customers. This framework has helped us grow, kept us safe, and has played a fundamental role in the tens of thousands of projects we've touched in our community, across Minnesota, and throughout the greater Midwest.
Egan's team continues to make going home safe their first priority. This commitment is demonstrated in completing solid PSI's on a daily basis, proactively identifying and addressing hazards, and always sharing ideas and suggestions that contribute to the well-being of the jobsite. The value of working safely is consistently demonstrated by Egan and embodies PCL's goal of zero incidents. Thank you!
- PCL Construction (Grand Casino Hinckley & Mille Lacs) | Site Supervisor, PCL Construction
Over the past few months, I have had the opportunity to work with Egan on a project at Pearson's Candy Company. No matter the situation, the Egan team has made my job a lot easier. I never have to worry about tasks not being completed on time – and sometimes even ahead of schedule. The level of communication on all aspects of this project was first rate. It has been an absolute pleasure to work with Egan Company.
- Pearson's Candy Company | Tony Austinson, IT Contractor
I wanted to thank Egan's team for the seamless installation. The planning that went into the project was extensive. From start to finish, any concerns we had were thoroughly addressed. The team was always efficient, professional, and completed the upgrade on time, with no disruption. It was great to have Egan's team here.
- Advanced Pain Management Clinic – Mankato | Melissa Nelson, Business Operations Manager
I wanted to take a moment to thank you for the Egan team you assembled to work at NACS. I can't say enough about how well the guys have done. Both electrically and mechanically, the work has been very good. They all had great attitudes and were a pleasure to work with. This has been a true team effort!
- NACS, Inc. | Manufacturing Manager
Egan has brought many mechanical and electrical solutions to the Owner at all phases of the project, including suggested grease interceptor piping routes, water feature plumbing, and recommended rework to existing and new electrical panels for tenant requirements.
- Kraus-Anderson (Galleria) | David Kray, Kraus-Anderson Senior Project Manager

America's Safest Company Award
Recognized as one of America's Safest Companies, Egan demands safety at every turn. We invest significant resources into employee training and jobsite safety.
Safety First