The Grand Casino Hotels in Mille Lacs and Hinckley are home to two of Minnesota's favorite casinos, as well as long-time customers of Egan. While undergoing recent renovations, Grand Casino
was searching for a more cost-effective, hands-free faucet system to be installed in its newly updated bathrooms. And, with the help of Egan's team, a jackpot of a solution was found that utilized a
new plumbing technology: UltraFlo.
Ron Hanson, Egan Company Senior Mechanical Design Engineer, carefully reviewed several new sensor faucet manufacturers before landing on the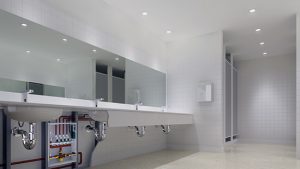 Ohio-based UltraFlo. Given its design – clean, simple, and free of cluttered pipes or wires – it was perfect for the highly trafficked, rarely closed bathrooms of the casinos.
Our clients at Grand Casino have respect and trust for Egan's knowledge of systems. When we proposed UltraFlo, they had the confidence in us that this was truly the best fit for them and the results so far have been highly successful.
-Ron Hanson, Egan Company Senior Mechanical Design Engineer
With the installation of this system, it is the first of its kind in this region. The new sensor faucet technology is set to save both time and money for the casino. Unlike traditional battery and control-box-operated sensor faucets, UltraFlo is a one-pipe plumbing system that provides a central control location to operate up to eight faucets.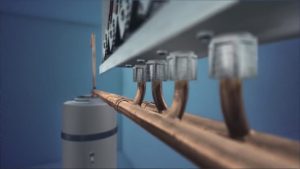 Another major cost saving perk is its one mixing valve system, which allows maintenance personnel to adjust the faucet temperature for the entire bathroom through a single valve. This differs from battery-operated systems, which each have their own controls, resulting in a very costly and time-consuming process when maintenance is needed.
"We're always looking to find innovative solutions for our customers," said Hanson. "And, sometimes that means introducing an entirely new technology system to the Midwest like UltraFlo," said Hanson.
As the renovations continue, Egan's Mechanical team is scheduled to install more UltraFlo systems throughout Grand Casino.