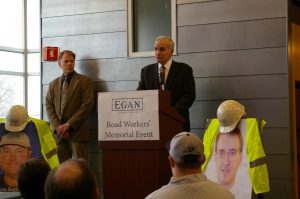 MINNEAPOLIS, MN (April 25, 2014) – Not all Minnesota families are able to welcome home their loved one after a regular day on the job.
On October 13, 2011 Craig Carlson and Ron Rajkowski, long-time employees of Egan Company's Outdoor Electrical Group, were struck and killed by a distracted driver while working on a highway project off the shoulder along I-35W in Burnsville. In commemoration of Craig and Ron's dedication to their work and commitment to keeping Minnesota's roads safe, Egan is hosting a ceremony in their honor to pay tribute to both men and to honor those who have been injured or died on Minnesota roads while on the job.
The Egan event will begin at 3:00 pm on Monday, April 28, 2014, at Egan Company headquarters, 7625 Boone Avenue North, Brooklyn Park, MN.  Governor Mark Dayton will offer opening remarks at the event and local and state officials have been invited to attend.  Other speakers include the widows of both men, Deb Carlson and Jodi Rajkowski, as well as transportation industry and labor groups.
The Federal Highway Administration (FHWA) designated the week of April 7-11, 2014 as "National Work Zone Awareness Week". This year, Minnesota and the Minnesota Department of Transportation have designated Monday, April 28 as Minnesota Road Worker Memorial Day.  Since 1960, 49 workers have lost their lives while working on Minnesota highways, including Carlson and Rajkowski.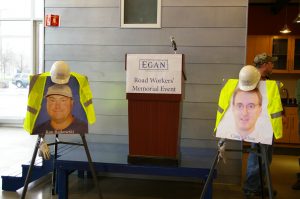 Egan, in association with the Minnesota Association of General Contractors (AGC), the National Electrical Contractors Association (NECA), and the International Brotherhood of Electrical Workers (IBEW) 292, has been backing legislation offered this year at the State Capitol to reduce work zone speeds to 45 mph when workers are present on high speed roads and to increase the fine for moving violations in work zones to a minimum of $300 per occurrence statewide.  Existing law allows work zone speeds to be set with no limits and speeding fines in work zones statewide vary widely based on the location of the violation.  Changes to existing law to better protect road workers is contained within H.F. 3732, the Omnibus House Supplemental Transportation Appropriations bill currently being heard in the Ways and Means Committee. House File 3732 proposes to reduce speeds in work zones to a maximum of 45 mph when workers are present statewide, increase the minimum fine for moving violations in work zones to $300, and provide for the use of additional technology and public awareness campaigns. The road worker safety legislation is sponsored by Rep. Ron Erhardt, DFL-Edina, and Senator Susan Kent, DFL-Woodbury, among other legislators.
"The safety of Egan employees is our number one priority; everyone has the right to return home to their family every day," said Duane Hendricks, Egan Company Executive Vice President. "We always work to provide a safer workplace through providing safe job site conditions, advance planning, proper tools and continuous safety-focused training programs for our staff. Roadway safety remains a top priority–it is a constantly changing environment with fast-moving traffic and unfamiliar conditions."
Jodi Rajkowski and Deb Carlson, widows of the deceased Egan workers, agree. "All road workers in Minnesota, whether working for public agencies or private companies, need to be protected as they focus on doing their jobs on the road. Plastic orange cones are not protection. People need to slow down, pay attention and remember that they are driving within inches of someone's loved one who has to be there because it's their job", said Rajkowski.
Members of the media planning to cover the event should contact Jessica Johnson, using the information below.
Media Contact:
Jessica Johnson  //  jkjohnson@eganco.com  //  763-595-4310
About Egan Company
Egan Company is a fully integrated, specialty contractor that delivers attention, commitment and craftsmanship to every project. Egan serves every stage of a building and provides in-house expertise in planning, design, building and maintenance. Egan maintains an aggressive commitment to provide a safe and healthy place of employment through its Safety Brings You Home program. It invests significant resources to provide training for all employees about the skills and knowledge they can use to insure their own safety in the workplace. Egan's OSHA Recordable Incident Rate was 2.13 for 2013, which is substantially below the average rate of 6.80 for specialty trade contractors in Minnesota. For more information, visit www.eganco.com.
# # #