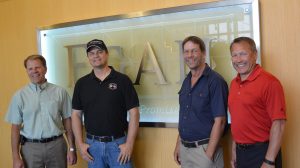 MINNEAPOLIS, MN (July 1, 2015) – Specialty trade contractor Egan Company announces the asset acquisition of electrical contractor Kestner Electric, Inc. Based in Austin, Minn., Kestner Electric offers electrical construction, low voltage technology installation, UL 508A control panel construction, and electrical maintenance services.
With the acquisition of Kestner Electric, Egan Company enhances its market position as a provider of electrical and systems integration in Southern Minnesota. Egan has a history of providing commercial contracting services to Southern Minnesota with its Nietz Electric brand located in Rochester, Minn.
"Kestner Electric and Egan Company have a strong relationship through the National Electrical Contractors Association and Local Union IBEW 343," said Jeff Young, Vice President of Nietz Electric, a brand of Egan Company. "Kestner [Electric] will help Egan expand the ability to provide high levels of service to customers in a wider region of Southern Minnesota."
Beyond the electrical trade, Egan will offer single-source expertise to Kestner Electric customers, which may include UL508A panel construction, mechanical, millwrights, and other building systems. Currently, electricians work with long-standing customers in the food and agriculture processing industries.
"Kestner Electric has built its business on reputation, relationships, and long-term commitments to assisting various customers achieve their objectives," said Kevin Kestner, former Kestner Electric co-owner.  "With Egan, we can serve customers even better due to an extensive and skilled staff of engineers, estimators, project managers, programmers, and safety [team]. By joining forces, all of the services which Egan offers now become services which we will be able to provide . . . we look forward to bringing the newly acquired abilities to our customers."
Kestner Electric's 23 employees will remain in its Austin, Minn. office. Kevin Kestner will manage the group, while Jeff Young will oversee all Kestner Electric operations.
Media Contact:
Jessica Johnson
jkjohnson@eganco.com  //  763-595-4310
About Egan Company:
Egan Company is a specialty contractor which provides in-house expertise in planning, design, engineering, construction, and maintenance—and a workforce representing over 15 skilled trade unions serving virtually every infrastructure discipline in the industry. Core services include: mechanical, electrical, engineering and design, curtain wall/glazing/panel systems (InterClad), millwrights, fabrication, building systems, controls and system integration, and service. For more information about Egan Company, visit www.eganco.com.
# # #