News
Security and Peace of
Mind from... Forklifts!
July 19, 2017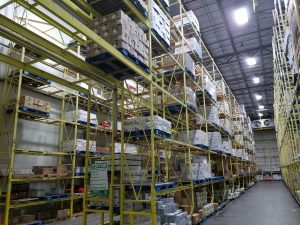 At a local warehouse for an international food distribution company, forklifts had triggered traditional sprinklers in the freezer section by accidentally hitting them when moving products. The cost
to replace the inventory in the 25,000 square foot section and drain/restore the sprinkler system was over $30,000. When this scenario happened a second time, the company knew it was time for a change and gave Egan a call to install a new, innovative sprinkler system.
Typical sprinkler systems require a triggering of the sprinkler head through heat detection, or in this case, getting hit by a forklift. Along with JF Ahern, Egan developed a solution for the fire sprinkler troubles at this facility: install a pre-action sprinkler valve that would require two actions to activate, a sprinkler head trigger and a heat detector trigger.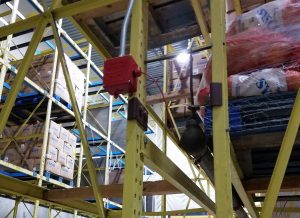 A challenge with the new system was that a traditional heat detector could not be installed due to it being part of the sprinkler head – which a forklift could (once again) hit. To overcome this challenge, Egan installed a specially-engineered cable connected directly to the sprinkler pipe. If that cable reaches a specific temperature, the alarm will set off the sprinklers.
"The new system will ensure forklifts aren't able to trigger the sprinklers, and in return will save the company thousands of dollars," said Lee Stover, Egan Company Estimator.