News
Emergency Response Helps to Avoid Costly Property Damage
March 12, 2015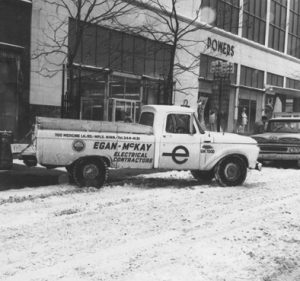 Since the 1960s, Egan Company has provided operational support for buildings and their internal systems. Egan's in-house 24/7/365 call center dispatches qualified trades personnel to service building infrastructures and controls.
Our emergency response is a service many of our customers find valuable. The League of Catholic Women, a local nonprofit organization, found this service useful this past New Year's Eve when the boiler in their unoccupied Minneapolis building was not running, causing the temperature to rapidly drop to the mid-30s.
"We were two weeks from closing on the sale of the building in Downtown Minneapolis, and the waterline ruptured," said Fran Rusciano Murnane, Co-President of the League of Catholic Women. "Chaos would have ensued were it not for the commitment, perseverance, and ingenuity of [Egan's] Nick Millette, Dale Bocan, and Tony Lawrence."
The City of Minneapolis had shut off the water two days prior because of the break in the main water line. As a result, the boiler ran out of water and stopped running.
Rusciano Murnane received a recommendation to install 30 space heaters throughout the building. However, the cost to deliver 30 heaters on New Year's Eve would have been incredibly cost prohibitive, let alone the likelihood of finding a bulk quantity of electric heaters on a holiday.
Promises Made
Egan determined that the best solution was to try to get the boiler running. A tool was created that extracted water from the water heater into the boiler. The boiler ran for the next three to five days so water could continue to be forced into it.
Once a sufficient amount of water was fed into the boiler, it was safely turned on and the building began heating again. However, it was soon determined that another city waterline had ruptured that hadn't yet been discovered. As a result, the waterlines inside the building were not draining, so the potential for additional burst pipes throughout the 20,000 square foot facility was very probable, resulting in extensive property damage.
Egan drained the water from the building fixtures and waterlines, but soon encountered a new problem: these two ruptured waterlines had caused water to leak through the exterior wall into the electrical room near the electrical panel.
As a result, the electrical components needed repair, but the situation was deemed unsafe with water still over the electrical panel.
Once the City shut off the waterline and the environment was safe, all damaged electrical components were repaired within five days of the initial service request.
Promises Kept
The League of Catholic Women was able to successfully close on the sale of their newly purchased building and avoid any costly property damage.
"I am in awe of the professionalism, skill, intelligence, and kindness of Nick, Tony, and Dale. Each of these gentlemen demonstrated the utmost concern in dealing with a dire situation on New Year's Eve," Rusciano Murnane said. "In an era of decreasing concern for the customer, these three concerned individuals exhibited the best training and outcomes that anyone could hope or expect."
(The Egan team mentioned here includes: Nick Millette, HVAC Service Pipefitter; Dale Bocan, Plumber; Tony Lawrence, Electrician.)