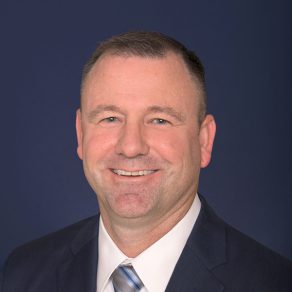 MINNEAPOLIS, MN (August 1, 2020) – Egan Company, a Brooklyn Park specialty contractor and systems integrator, announced the promotion of Ryan Woodruff to Vice President. In this senior leadership role, Woodruff is responsible for overseeing business operations and direction for Egan's InterClad (curtainwall/glazing/metal panels) business.
"Ryan's attention to operations and processes, aligned with his hands-on leadership style to help others, lead by example, and develop the skills of employees, has been a great asset to Egan," said Duane Hendricks, Egan Company President & CEO. "In the last year and a half, he has connected well with his team and has taken on the full responsibility of the InterClad business, financials, staff, and operations which includes projects, the shop, and the office."
Woodruff joined Egan in early 2019 with over 20 years of experience in the curtainwall and glass industry. He was previously a Branch Manager for Forman Ford, managing locations in Omaha, Neb. and Des Moines, Iowa. In addition to numerous Iowa State University projects, Woodruff's leadership on large and local projects includes the Rafter Apartments, Allianz Field, MCTC Skyway Renovation, and Scheels in Eden Prairie Center. He attended Upper Iowa University in Des Moines, Iowa.
The Minneapolis-St. Paul Business Journal highlighted Woodruff's promotion in its People on the Move feature.
About Egan Company
Egan Company is a privately-owned, specialty contractor providing building trades to general contractors, engineers, building owners, property managers, and facility engineers. Specialties include: electrical, mechanical, curtainwall/glazing/metal panels (InterClad), millwrights, building technology, controls and system integration, and 24/7 service. Egan serves every stage of a building and provides in-house expertise in planning, design and engineering, construction, and maintenance.
# # #
Media Contact:
Angela Schmidt
arschmidt@eganco.com // 763-504-3471