News
A Fifty Year Partnership
February 5, 2018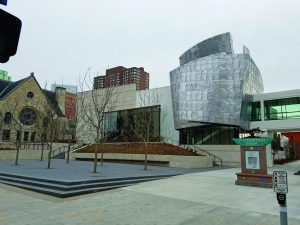 What started as a simple electrical upgrade by Egan Company in the early 1970s, has formed into a 50-year partnership with Westminster Presbyterian Church in Downtown Minneapolis. Over the last two decades, Westminster has completed four major projects with Egan that has transformed the building into a more modern-looking church while maintaining its historical culture.
Egan's partnership with Westminster was formed through Industrial Electric Company, a company Egan acquired in 2011.
"We've had great partnerships with Westminster throughout all of its big projects," said Gary Setala, Egan Company Account Executive. "They know how we work, they know we'll get the job done, and they know we care – no matter what the project is."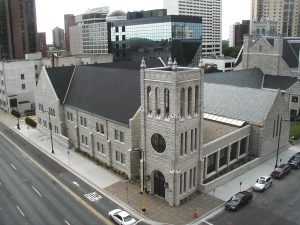 "Our most recent project, the Open Doors Open Futures project, was one of my favorites," said Setala. "We were involved in the upgrading of electrical fixtures, an extensive exterior lighting addition, and the Grand Staircase light fixture…a beautiful, 55 foot chandelier with glass hand-blown in New York and assembled in Paris."
As with previous projects at Westminster, the completion date was December 22 – just in time for Christmas services.
"The project schedule was very tight," said John Kolb, Egan Company Field Leader. "As well as extremely fast-paced, but Westminster is always wonderful to work with. The projects are unique and unlike other projects we typically work on."
The Christmas service attendees had the opportunity to view the completed Open Doors Open Futures project that includes new gardens and green spaces, improved underground parking and entries, and a new wing and plaza that opens up to Marquette and Nicollet Avenues.
"It has been a wonderful experience working with Egan Company throughout this project. The attitude is always positive, and we're looking forward to continuing a long relationship."
– Dennis Alfton, Westminster Presbyterian Church Director of Operations
Core Project Team: M.A. Mortenson Construction, Westminster Presbyterian Church, James Dayton Design
Services Provided: exterior and interior LED lighting, lighting control and distribution system, mechanical equipment wiring, general purpose power wiring, audiovisual conduit system