News
Shining Some Light on
Super Bowl LII
February 2, 2018
All eyes are on Minneapolis this winter as U.S. Bank Stadium hosts Super Bowl LII. More than a million visitors are expected across the Twin Cities – and Egan has played a subtle role in improving the safety of downtown for the influx of pedestrians.
While most of us see the larger construction projects occurring around the metro with the new hotels and restaurants, Egan has been busy improving the lighting across the city and local airports to make it brighter, more aesthetically appealing, and of course, safer.
Downtown Minneapolis pedestrian improvements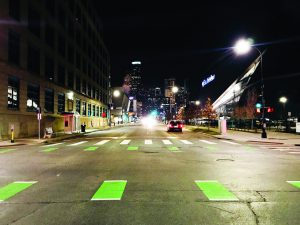 Renovating and replacing light poles, fixtures, and luminaries throughout downtown Minneapolis and the blocks surrounding the stadium was just a start. More than 30 light poles and fixtures and 60 luminaries were replaced with more modern LED lighting, which not only looks sharper, but is also more energy efficient.
In addition to the lighting upgrades, Egan installed more than 30 Accessible Pedestrian Signal (APS) push button stations. These APS stations improve the safety of pedestrians at busy intersections.
MSP runways upgraded for heavy Super Bowl traffic
While downtown Minneapolis is the final destination for the big game, many visitors will be flying into Minneapolis-St. Paul International Airport in the days prior to kickoff. In conjunction, Egan constructed extensive airside lighting repairs to upgrade MSP runways.
The team provided the removal and replacement for over 150 elevated and more than 100 in-pavement runway guard lightings. Additionally, 334 taxi way airfield signs were upgraded with LED kits.
Super Bowl private-jet hub at Holman Field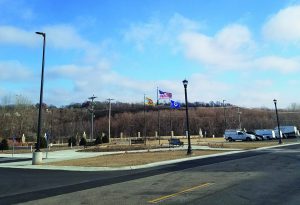 Down the road from MSP is Holman Field Airport in downtown St. Paul, which is gearing up to be the private-jet hub for the Super Bowl. In preparation, Egan provided the installation of all new light poles, fixtures, taxiway lights, and flag poles to get ready for the VIP flyers.
The Twin Cities and its local airports are now safer, brighter, and ready for some football.
Services Provided: Light poles, LED fixtures, APS push button stations, runway guard lights, taxiway lights, elevated RGLs, in-pavement RGLs, airfield signs, flag poles