News
EGAN PRESIDENT & CEO RECEIVES AWARD
April 17, 2018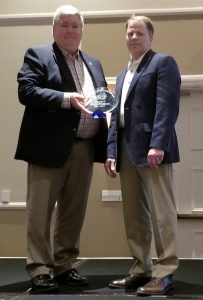 MINNEAPOLIS, MN (April 13, 2018) – The National Electrical Contractors Association (NECA) has awarded the 7th District Electrical Industry Award to Duane Hendricks, Egan Company President & CEO, for his distinguished service to the electrical industry and his continued leadership, commitment, and contributions to the NECA Minneapolis Chapter and region.
Hendricks is a longtime member of the NECA Minneapolis Chapter and a St. Paul Chapter delegate, and has held many positions within NECA since 2007 including Chapter Board Member, Treasurer, President and is currently the Minneapolis Chapter Governor. He has also served on negotiating committees, the Labor Management Cooperation Committee, the Future Leaders Group, and the Innovation and Technology Task Force. Hendricks joined Egan in 2002 with the merger of Comm Tech Electrical and served as Chief Operating Officer before becoming President & CEO in 2018. He began his 30 year construction career as an electrician, reaching Master Electrician before moving into executive leadership roles.
About Egan Company
Egan Company is a privately-owned, specialty contractor providing building trades to general contractors, engineers, building owners, property managers, and facility engineers. Specialties include: electrical, mechanical, curtainwall/glazing/metal panels (InterClad), millwrights, building technology, controls and system integration, and 24/7 service. Egan serves every stage of a building and provides in-house expertise in planning, design and engineering, construction, and maintenance.
# # #
Media Contact:
Jessica Johnson
jkjohnson@eganco.com // 763-595-4310