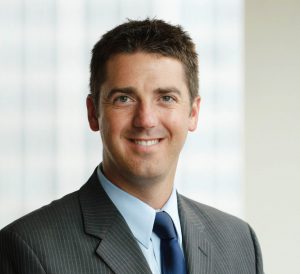 MINNEAPOLIS, MN (December 5, 2017) – Egan Company, a Brooklyn Park specialty contractor, announced James Ford, Chief Financial Officer, has been appointed to the Egan Company Board of Directors.
"James' experience and background in finance is invaluable to Egan, our employees, and our customers," said Jim Malecha, Egan Company President & CEO. "He provides unique insight and expertise in strategic management and will be a great addition to our board."
Ford joined Egan Company as Chief Financial Officer in February after 15 years in public accounting. He provides leadership overseeing Egan's accounting, human resources, and legal functions, as well as acts as an advisor to all lines of business. Additionally, Ford is on the Board of Directors for Minnesota-based nonprofit, Dads Make a Difference.
Ford joins four other members on Egan's board, including Jim Malecha, outgoing President and Chief Executive Officer, Duane Hendricks, Chief Operating Officer/incoming President & CEO, Tim Woolworth, Senior Vice President, and Jim Nonn, Chief Information Officer.
The Minneapolis-St. Paul Business Journal highlighted Ford's promotion in its People on the Move feature.
About Egan Company:
Egan Company is a specialty contractor that represents over 15 skilled trade unions serving virtually every infrastructure discipline in the industry. Core services include: electrical, mechanical, curtainwall/glass (InterClad), millwrights, controls and system integration, building automation, and service. Egan serves every stage of a building and provides in-house expertise in planning, design, engineering, construction, and maintenance.
# # #
Media Contact:
Jessica Johnson
jkjohnson@eganco.com   //   763-595-4310