SOLAR BOOM

The explosion of the solar industry started after the 2013 Energy Omnibus Bill which mandated large utilities in the state to produce 1.5% of their electricity from solar power by 2020 and allowed for community solar array gardens. This bill also gave consumers an option to utilize solar farms for a portion of their electricity, so the reliance and demand for more solar panel installation and ground-mounted solar arrays skyrocketed.
Egan, having previous experience with the installation of solar panels on high-rise buildings, shopping centers, medical facilities, and business park campuses, recognized the opportunity and utilized our electrical expertise in a way we had never before – installing ground-mounted systems in fields, valleys, and swamps around Minnesota.
"We received a call to complete a 9 Megawatts (MW) solar panel farm in eight weeks, and we knew it was our chance to show what we can do and do it well," said Carrie Thompson, Egan Company Project Manager.
A CLOSER LOOK AT AN EGAN SOLAR SITE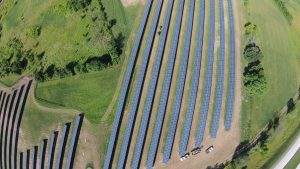 Egan's solar site projects vary in size, location, time of year, and type of solar panels – fixed-tilt or tracking. "Tracking" solar panels track the sun's progress across the sky throughout the day, whereas the fixed-tilt solar panels stay in place. Last summer, 150 Egan electricians were on the 65-acre St. Joseph Solar Farm project to install 28,188 fixed-tilt solar panels.
This was a tight-deadline project, and Egan performed better than we thought possible. We had a contractual obligation to complete the community solar project in 40 days and Egan stepped up to complete the project on time. – Jamie Borell, IPS Solar Chief Operating Officer
The St. Joseph Solar Site produces 9 MW of electricity that Xcel Energy distributes to local subscribers of its solar garden program, all of which happen to be local school districts.
Egan had the role of lead contractor on this project and utilized both high-voltage and low-voltage electricians for all aspects of the process. Materials were prefabricated in our shop that provided safe working conditions and a faster schedule.
The 196 inverters were pre-mounted on a strut assembly (or racking system) and underground conduit stub-ups were prefabricated before going on site in St. Joseph.
ENSURING SAFETY ON EVERY JOBSITE

Egan technicians continue to install solar panels year-round, and have installed ground mounts in all weather conditions. The safety of our employees remains our number one priority throughout every project, and Egan has taken measures to provide extra in the less than ideal circumstances — from providing hand warmers and cold-weather approved boots to sunscreen and rain suits.
The installation process also has certain risk factors – the solar panels are actively producing electricity as soon as they're exposed to the sun, and a solar array farm is erected with multiple moving parts.
"Over the last two years, we've completed a large number of solar panel projects in all weather conditions on all types of terrain," said Thompson. "We're excited to continue to partner with our customers on these renewable energy projects.