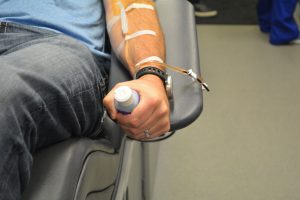 A little friendly competition never hurt anyone, and in this case, helped save lives in our community! Partnering with Memorial Blood Center, two Bloodmobiles parked in Egan's Brooklyn Park and Champlin office parking lots and the two offices competed to see who would have the most donors.
A total of 56 employees donated blood throughout the morning on September 30, 2016. But the lucky winners with four more donors than the other office, and the proud winners of the Egan Company Blood Drive Trophy went to the Champlin office with 29 total donors! Together, Egan gave the gift of life to those in need.
Memorial Blood Centers is a Minnesota-based, independent nonprofit supplying life-saving blood, state-of-the-art laboratory services, and biomedical expertise to area hospitals and clinics.