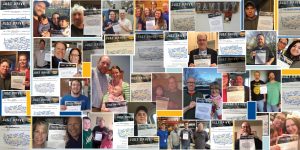 Even in life's busiest moments, it is important to practice safe habits at home, work, and behind the wheel.
This April, in recognition of National Distracted Driving Awareness month and in partnership with the Minnesota Department of Public Safety campaign, Egan Company employees and their families submitted pledges to "Just Drive" and become more educated about safe driving. In addition to the over 50 employees who pledged, Egan's Board of Directors also pledged to show their commitment to this company initiative.
A local Minnesota TV station, Kare 11, also launched at campaign that provides some great resources. Their #EyesUp campaign is helping educate about distracted driving and create advocates to help make Minnesota roads safer.
Together, Safety Brings Us Home.