News
We are Egan -
Jake Sinn
December 7, 2016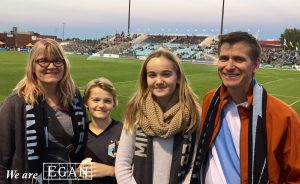 "Because pipefitting encompasses such a broad field of work, I am continually learning new systems and methods of installation. This can be stressful, but it keeps the work challenging and interesting."
Meet Jake Sinn, a Pipefitter Field Leader who has been with Egan for 13 years.
Jake and his family love soccer. He and his wife enjoy watching his kids Maddie and Jonah play soccer, and attending professional soccer matches as a family.
Our company is shaped by who we are, not just what we do. Together, we are Egan.