News
We Are Egan – Dan Ford
November 27, 2017
"Happiness is not a station you arrive at, but a manner of traveling."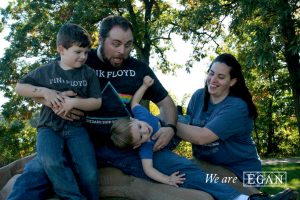 Meet Dan Ford, Project Systems Supervisor within the Field Services team, who has been with Egan for 10 years.
Outside of the office, Dan's favorite weekend activity is jumping on the trampoline with his kids. "I have tons of great trampoline memories from my childhood. Now, I can pass those onto my own children which is fun!"
Before joining Egan, Dan served for 10 years as a combat medic and was deployed to Iraq in 2005 for 22 months on the 'Extended Red Bull Tour'.
Another interesting fact about Dan is that he spent all of 2015 using the Trimble Total Robotic Station software to lay out glass for InterClad's project at U.S. Bank Stadium. Through this project, he developed a process for "Vertical Layout" that he presented back to Trimble.
Our company is shaped by who we are, not just what we do. Together, we are Egan.