News
Upcoming Twin Cities Events
Drive DAS Technology
December 14, 2017
In today's social media driven world, everyone has a platform to share their in-the-moment experience. And, with the millions of visitors set to visit the Twin Cities over the next few years for Superbowl LII in February, the NCAA Men's Final Four Championship in 2019, and a growing amount of concerts and special guests, the need for reliable cell phone service from carriers is vital.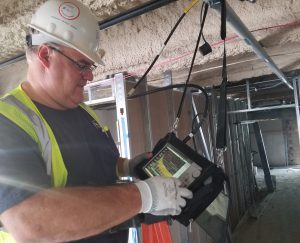 Minneapolis and the rest of the Twin Cities have been preparing for the influx of cell phone service needed during these large events by installing a Distributed Antenna System (DAS). DAS technology is utilized to cover isolated areas within a large building that have poor cell phone coverage.
"A few of the Downtown buildings where we've installed DAS include the Fifth Street Towers, the U.S. Bank Plaza, the U.S. Bank Tower, the Minneapolis Armory, the Mall of America parking ramps, and one of the DoubleTree hotels," said Rob Stanley, Egan Company Account Manager. "With these buildings investing in DAS, cell phone users have a better chance of having full service during these monumental events and experiences."
The distribution of cell phone service throughout a building is completed by two methods. One, a carrier orders a circuit to enter the building via fiber optic in a specified location. Or, two, a carrier will authorize the signal to be captured via a donor antenna. This assembly is typically placed on the rooftop and aimed at the nearest outdoor cell tower. The signal is then brought into the building and distributed to antennas.
All of the major cell phone carriers, including AT&T, Sprint, T-Mobile, and Verizon, can utilize the same DAS system. Each carrier shares the device and has its own antenna and receiver which transmits the service to their expectant customers.
Beyond Minneapolis and St. Paul, Egan's team has installed numerous DAS systems at the Mall of America as they prepare for increased visitors during the holiday seasons and the large sporting events. The Mall of America alone has 54 DAS circuits installed in the parking ramps which include six antennas each that allow for an uninterrupted experience as they visit the venue.
"Visitors of the upcoming major events will now be able to share their amazing experiences with all of their social media followers," said Stanley. "And have full, reliable service where DAS is installed!"
Egan Company technicians have completed the required training and certifications to install, terminate, and commission DAS Systems. They are fully certified in PIM and Sweep Testing used to commission DAS Systems.