News
Marked by Growth
Powered by Faith
December 15, 2017
Fortunate. The word Jim Malecha uses most often to describe his 38-year career – a career that has been dedicated to growth, integrity, and exceptional leadership. Now, after 18 years at Egan Company and an eight year tenure as President & CEO, Malecha will retire at the end of December.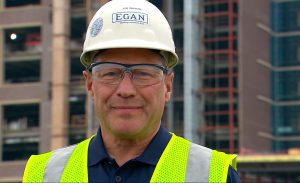 Egan's growth has come in part due to his dedication to people, collaboration with leaders, passion for the construction industry and, of course, hard work – a trait instilled in him since his childhood.
Being the oldest of six, Malecha was no stranger to helping his parents with odd jobs around their southern Minnesota hometown. Painting houses was a side job both his parents did as a way to earn extra income for the children to attend the local Catholic school.
"Since I was old enough to hold a paint brush or scraper, I remember helping paint," said Malecha. "My dad would get home from his day job as a postal worker, we'd all get packed up in the car, and go to whatever job was next."
Though he had a memorable childhood, Malecha always felt a desire for something bigger. He knew he wanted to put himself in a position where he could take risks in building his career – something he saw his parents pass up many times.
After he graduating from Minnesota State University – Mankato with a degree in accounting, he began his career as a staff accountant at McGladrey & Pullen, an audit, tax, and consulting firm. It was here that he discovered his passion for leadership and became determined in his pursuit of reaching a company leadership role.
Shaping a leadership style
It wasn't long before he got his first managerial-type role and began learning the ins and outs of leading people.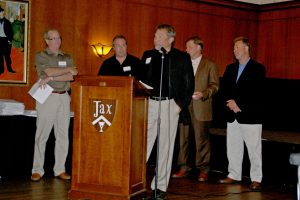 Malecha recalls a pivotal point early in his career at McGladrey where he questioned whether he was built to be a leader after receiving critical feedback from a manager that his leadership style was "too demanding". It was a conversation that changed his direction on how he worked with people and has stayed with him ever since.
"It wasn't that I was treating people poorly… I was driven and expected everyone else to be the exact same way," said Malecha. "After this, I started to understand that we're all a little different and have different things that motivate us."
 Opportunity in Las Vegas
As he advanced at McGladrey and became partner, an opportunity in Las Vegas relocated him, his wife Corinne, and their infant son, Dan, out west. It was there that the Malecha's welcomed their second child, Lauren. With two young children, the late nights and early mornings of his job began to wear on the family.
"In Las Vegas, my career really took off. I worked the hardest there that I've ever worked in my entire life. But, that meant I was never home," said Malecha. "This was difficult on my family life and I knew something had to change."
After waiting for a new opportunity to open within the firm, he received the call of which he had hoped. McGladrey wanted him to lead the Construction and Real Estate group in Minneapolis. The timing was "impeccable."
Transitioning to Egan Company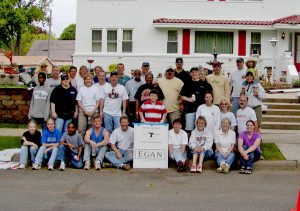 In running the Construction and Real Estate team, Malecha worked closely with Egan Company. Egan was a customer of his and he had formed strong relationships within the company. Three years in, he had no intention of leaving his current position; however, Egan's CEO and CFO were both retiring. He was approached about filling the CFO role as well as becoming an owner and partner of the company – an opportunity he knew he had to take.
Malecha worked for the next ten years as CFO and transitioned into the President & CEO position after Craig Sulentic retired in 2009.
Throughout his time at Egan, he has overseen 12 successful mergers and acquisitions which has brought on new business and expanded Egan's market to include additional trades and specialty services and more office locations. Malecha has helped to combine five separate Twin Cities offices into two, beautifully renovated buildings, and expanded Egan's prefabrication shops. Lastly, the company has grown by more than 100% under his helm.
Malecha's commitment to growth has been a huge marker of his time at Egan. But, even more so is his commitment to things less tangible like being intentional about having work-life balance, prioritizing people over profits, and his vow to live his faith through his actions.
Inspiring a faith-based, work-life balance
Work-life balance is easier said than done for some, but he has remained true to his promise to maintain it. Furthermore, he has been diligent with instilling his family-first approach into his leadership style and the culture of Egan.
"My philosophy is that you need both your family life and your work life to go well at the same time to have a good life," said Malecha. "I hope we're a company that can work with people to balance both of those areas and that all of our leaders model this as well."
Providing an environment where people feel happy and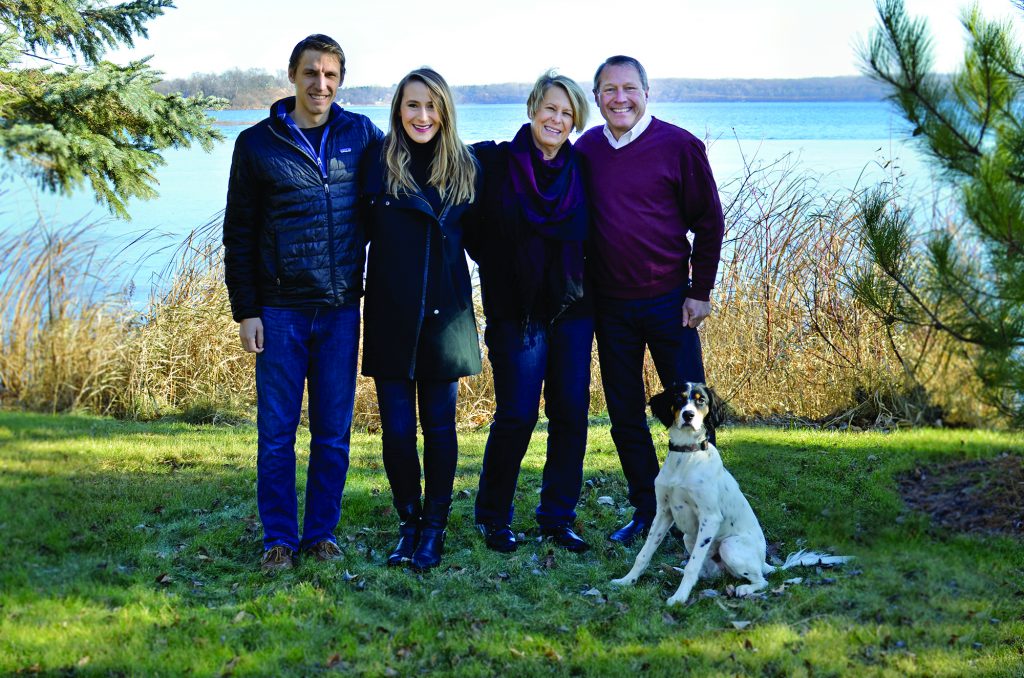 safe while at work is something that has always been important to him. Helping to take care of over 1,000 Egan employees by providing them with good jobs remains his motivation after nearly 20 years.
Another priority is his dedication to his faith which has helped him through many hard times, both in business and his personal life. Even before the busiest of days start, he takes time to do a devotional, read a chapter in the Bible, and pray for wisdom along with the safety of everyone at Egan.
Malecha's faith has regularly given him insight into understanding the bigger meaning behind some of life's "why" moments and unquestionably shaped his values and ethics. He also credits his marriage and his family for making his faith walk stronger over the years.
"My hope is that I've lived my faith through my actions so much that people might ask, 'what's behind that?' And, what's behind that is my faith," said Malecha.
The vision for Egan and future Egan leadership
Though he has overseen a tremendous amount of change while leading Egan, Malecha believes the company's best days are still ahead.
"Egan will continue to be an integrated organization where we are serving customers with the diverse offerings we have," said Malecha. "No one else can offer what we can and our goal is to simply make our customers' lives easier."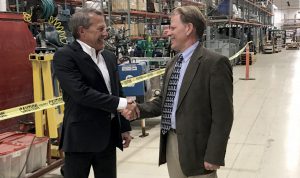 Leading this direction beginning January 1, 2018 as President & CEO is Duane Hendricks, Egan's Chief Operating Officer. Hendricks has over 30 years of experience in the construction and contracting industry and is a hands-on leader in planning and execution.
Since joining Egan in 2002, Hendricks and Malecha have worked together steering Egan through its growth and change while maintaining the highest level of integrity and service to Egan's customers and employees.
He is confident Hendricks will forward Egan's vision and continue to provide opportunities – just like the opportunities Malecha feels fortunate to have received throughout his life and in his successful career.