News
There's a Reason Toy
Rhymes with Joy
December 17, 2016
Egan employees helped spread holiday cheer during this year's Egan Company Toy Drive! Employees set the goal of donating 1,000 toys to children in need in the communities we work and live in, and dropped off toys during the Egan Company Christmas Party on December 15.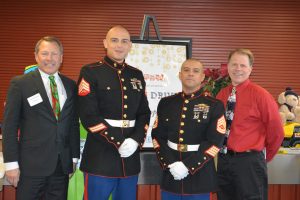 Two representatives from the Marine Toys for Tots Foundation attended our event and accepted donations. On December 16, Egan representatives had the opportunity to share our impact on KARE 11, announcing that we had donated a grand total of 1,200 toys, ensuring many children in our community will receive presents this Christmas. Watch the clip here!
The Marine Toys for Tots Foundation's goal is to deliver, through a new toy at Christmas, a message of hope to less fortunate youngsters that will assist them in becoming responsible, productive, patriotic citizens. Thanks to Toys for Tots for providing for those in need.