News
Technology bands Egan Together
September 17, 2014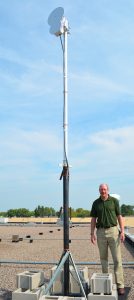 Jim Nonn, Egan Company's Chief Information Officer hadn't planned for this. As he watched the antenna wave in the -20 degree wind chill, he thought, "This isn't going to work."
The antenna was part of a new "air-fiber" connection that sends/receives data from Egan's corporate headquarters to Egan's Industrial Controls group about a mile away at speeds of 1.4 Gigabytes/second. The connection consisted of two antennae on top of each building that needed direct, uninterrupted line-of-sight to each other.
Minnesota's December weather had other plans. Not only was the antenna failing to stay put in the freezing wind, but it was also too short. Line-of-sight to Industrial Controls was cut off by another building. If these antennae failed to work, the Industrial Controls employees may as well have not shown up to work next Monday.
With the help of Egan pipefitters and low-voltage electrical employees, a team was formed to find a solution.
A taller, sturdier tower was fabricated in Egan's pipe shop, customized electrical wiring was rigged to it, and a bucket truck and crane were procured to safely install the new equipment. All of this was completed same-day.
"It's one of those times when I'm really glad I work at Egan, not just because of our construction capabilities, but the fact that people are willing to drop everything and help when you need it most," Nonn said.
Both antennae have needed minimal maintenance since that icy December day, and connection speeds between Egan locations have been consistently superior.