News
Collaboration with millwrights for safety, precision, and speed
September 15, 2014
On a Tuesday afternoon, Egan Company was tasked with a project: Daktronics, a scoreboard and electronic display company, needed help to safely raise 3,000 pounds of cable dangling 150 feet from the Xcel Energy Center ceiling. And it had to be done in 72 hours.
The scoreboard had been lowered, taken apart, and left in the middle of the Xcel with wires dangling from the ceiling. In three days, the Xcel needed to be set up for a Rod Stewart concert. Xcel thought the wires could be raised and set on the catwalks high above the floor; however, the catwalks could not support the weight of the cables.
Further situation analysis by Egan's Electrical Foreman, Project Manager, and Safety Director led to a concern with safety.
They concluded that a millwright needed to be involved to ensure the cables were lifted and installed safely. Egan Certified Millwright Marc Beltz met the team at the Xcel to determine a safe solution.
Egan's millwright team is safe, efficient, and thorough. They understand what is needed to make the project work and that the needs of the client are to be met.
–Jason Hanlon, Braun Intertec Associate Principal/Senior Structural Engineer
Since 1999, Egan Company has offered millwright services to customers. Millwrights specialize in safely moving heavy equipment and the precise alignment of machines. Essentially, a millwright is an industrial mechanic.
Beltz and the electrical team partnered with Braun Intertec to develop a plan to raise the cables. Braun Intertec engineered rigging that met Egan's objective to safely lift the heavy cables. The design was completed by early afternoon on Wednesday and the steel rig was fabricated on site by the Egan millwright team the next day.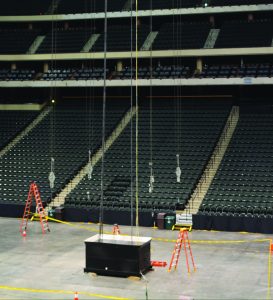 Egan's millwright team understands that all procedures, design, and construction need to meet certain standards and requirements before the work can be completed,
said Jason Hanlon, Associate Principal/Senior Structural Engineer at Braun Intertec.
It takes more than just muscle to complete a job like this. Egan millwrights work with a high degree of precision and certainty to ensure proper installation of heavy materials. Once a precise and safe installation procedure was established on Thursday, the cables was lifted and installed in the ceiling in time for fans to enjoy the Rod Stewart concert.
Beltz attributes the success of this job to the great collaboration between groups at Egan.
We have the opportunity to work with every group at Egan and also collaborate with engineering firms,
Beltz said. "We're proud to offer millwright services to customers."
Beyond precisely moving heavy equipment, Egan millwright services also include welding, machinery installation, rigging, preventative maintenance for mechanical equipment, optical and laser alignment, and custom fabrication.
Primarily, Egan millwrights work in the power plant, foundry, food production, and manufacturing industries.
"We provide specialized services that you can't get from anyone else but a millwright," Beltz said. "If it moves, you need a millwright."
Historically, the "mill" in millwright comes from building and maintaining flour mills, paper mills, and sawmills powered by wind and water. Though the trade has evolved since then, the basic idea is the same: to provide customers with necessary services to keep industries producing.