News
Local Volunteerism for a Global Reach
February 26, 2019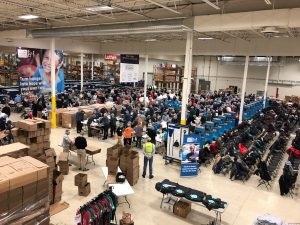 Turning hunger into hope – and, having a little fun in the process. Such was the theme of the Feed My Starving Children MobilePack held at Egan's Champlin facility for the fourth consecutive year.
The event ran from February 20-25th and welcomed more than 4,400 members of the community. The goal: to do our part to help in-need children across the globe.
Over the course of five days, 1.2 million meals were packs which will provide food to 3,515 children for an entire year!
Furthermore, Egan employees also did their fair share of packing and volunteering. Throughout the event, nearly 100 Egan employees volunteered their time to work and/or pack food.
Check out highlights from Egan's employee packing shift!
Learn more about the Feed My Starving Children organization.