News
HQ Renovations
Showcase Collaboration
May 11, 2018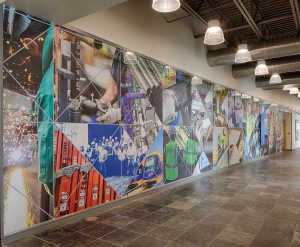 Innovation, integration, and efficiency – three words to describe both the process and the finished product of Egan's newly renovated corporate office space. Last Fall, the Brooklyn Park, Minn. office underwent an extensive renovation project utilizing Egan's in-house expertise and specialty trades. The result: an open-office environment that promotes collaboration and provides a more flexible workplace for employees.
"The office area was in need of improvements to better fit our growing employees and align with our values," said Duane Hendricks, Egan Company President & CEO. "We had an opportunity to modernize and carry over similar themes we used at our Champlin facility to create a more efficient, open space for employees to enjoy."
The 126,000 square foot office was last renovated in 2003, and is one of three Egan facilities in Minnesota – Champlin and its Southern Minnesota offices in Rochester and Austin.
"Our last renovation project in Champlin was an empty 180,000 square foot warehouse that we made our own in 2016," said Tom Buirge, Egan Company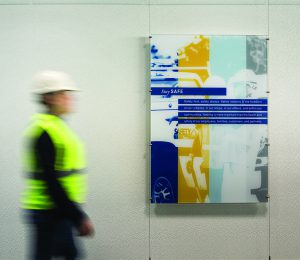 Construction Manager. "A challenge this time was renovating a fully occupied office on a tight deadline. We wanted to complete the project with as little disruption and moving around of employees as possible."
The completed office space has additional conference rooms and huddle spaces, sit/stand desks in every workspace, an open-floor layout, workspaces for future growth, and an updated lobby with dynamic artwork displaying Egan's multi-trade expertise and services.
"This project completes our office and facility renovations in the Twin Cities," said Hendricks. "We expanded and upgraded our mechanical shops in 2016 to improve manufacturing efficiencies, and are thrilled with the new look and feel our employees and customers get to experience now in both our Twin Cities offices."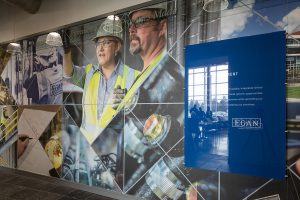 EGAN'S SPECIALTY TRADES WORK PERFORMED
ELECTRICAL: replaced all existing office fixtures with LED and added space occupancy-sensored lighting
CURTAINWALL/GLASS/GLAZING: design and installation of glass walls in offices and conference rooms
BUILDING TECHNOLOGY INTEGRATION: sound masking, work station, voice/data/fiber option, automatic window shades, audio/visual, building automation system