News
Exceptional Service is Recognized by JFCS
May 17, 2018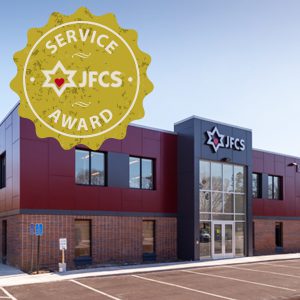 The Jewish Family and Children's Service of Minneapolis (JFCS) has recognized Egan with an award for exceptional service for work on the JFCS office building that was completed in March. Egan was part of the project team that remodeled the interior and exterior of it's existing building in Golden Valley, Minn.
Judy Halper, JFCS CEO, presented Egan with the award at the building's ribbon cutting ceremony on May 8. "There are so many who were critical to bringing this vision of JFCS and The Stillman Family Foundation to life, including Egan. After so much hard work, we want to acknowledge Egan with an award for service." – Judy Halper
The service award acknowledges the hard work of Egan teams: electrical and mechanical, technology systems, and building automation. Project managers include Carrie Thompson, Tom Buirge, Tim Johnson, and Dane Grunerud. Field leaders include Joe Baumgartner, Tom Rodrigues, Chris Nelson, Matt Snyder, and Eric Oja.
Find out more information about Egan's role at JFCS here.