News
Thinking Outside of
the Trimble Box
May 7, 2018
The Trimble Robotic Total Station is a no stranger to the world of construction. Used mostly at Egan for large, new construction projects, the "Trimble" plays an essential part of laying out electrical and mechanical systems.
Its state-of-the-art design was built to verify even the smallest details between the shop and field prior to construction on jobsites. This makes it an ideal tool to accurately lay out underground utility systems, between floor structures, and other flat-plane surfaces.
Though the Trimble has many uses, it had never been used for the glass and glazing industry until Egan Company took on its biggest curtainwall project to date: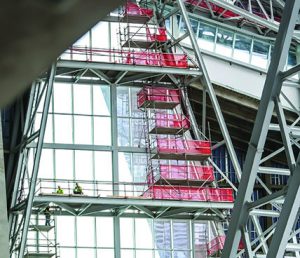 U.S. Bank Stadium.
"Given the massive size and architectural shape of the stadium, we knew we'd have to get creative," said Dan Ford, Egan Company Field Services Manager. "However, the task to efficiently and precisely install glass to this 30-story structure was a challenge we excitedly took on."
This project sparked a unique, innovative Trimble process allowing Egan to accurately lay out anchors directly to a vertical steel surface (different than Trimble's intended use) and solve two big installation components: risk of human error and efficiency.
In a traditional layout of curtainwall, there are multiple passes that happen before anchors are welded to the steel structure and the glass inserted. A pass includes many provisional tasks that progress toward a more permanent step within a phase of construction; many "passes" are within a phase.
The multiple passes for a curtainwall project include:
measuring and marking reference points by hand
verifying those references
tact welding temporary anchor points onto the building
With Egan's Trimble process, many of those passes are removed. A digital layout and survey of the curtainwall happen concurrently allowing anchors to be permanently welded in one pass. Therefore, saving an incredible amount of time and labor. The process also allows the team to identify structural flaws early, which allows time for correction prior to installing glass.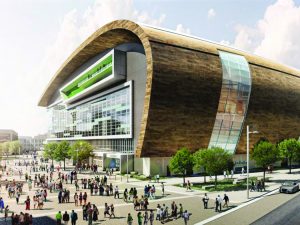 Successfully applying this process at U.S. Bank Stadium has led to similar work on other professional sports infrastructures. NBA franchise, the Milwaukee Bucks, will call a new, beautiful arena home beginning this summer. The aesthetically appealing arena is being constructed by M.A. Mortenson who has tasked Egan and its Trimble expertise for the arena's complex glass and glazing scope.
"Egan's innovative thinking and usage of Trimble is a perfect example of the versatility of technology," said Aric Stott, Product Manager at Trimble. "As a result, they've run multiple glass/glazing projects with intricate architectural scopes very smoothly — and we [Trimble] have been able to implement several feature enhancements to our product that have helped us stay ahead of the curve."