News
Creating the Ultimate Luxury
Shopping Destination
May 8, 2017
Shop, Dine, Stay – Galleria Edina is a testament to the trend for shopping malls in Minnesota. Many malls across the state have adopted a philosophy of creating a shopping destination, offering places for people to shop, eat, engage in recreational activities, and sleep.
The Galleria was initially developed in 1976 with Gabbert's Furniture Store, and slowly stores were added and enclosed to create a mall similar to the Southdale Center. Since its initial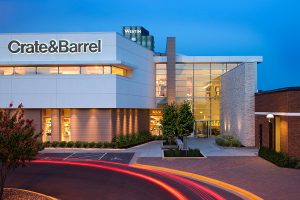 construction, Egan Company has been involved with various expansions and developments of this luxury shopping mall.
In 2008, Galleria Edina was expanded and a new 18-story Westin facility – comprised of 225 hotel rooms and 82 high-end condominiums – was attached to provide the full destination experience. The building also includes a pool, bar/restaurant, meeting space, ballroom, and different parking options. Egan provided Design/Build electrical services and installation of the phone/data, access controls, and fire alarm. A security system and cameras were also installed in the facility's parking ramp.
Since the construction of Westin Galleria, Egan has assisted with numerous projects, including cooling tower upgrades, owner upgrades to vacant spaces, and pump system replacements. The installation of the mechanical and electrical systems, required coordination of many trades including pipefitting, sheet metal, plumbing, electrical, and millwrights. In addition, Egan provides routine maintenance on retail locations within the mall and Westin Edina Galleria.
Currently, the mall has over 375,000 square feet of retail space, and a recent addition on the mall's east side adds 20,000 more square feet. The expansion adds several restaurants, home furnishing stores, and apparel shops. Galleria Edina also features a new concept of a 'restaurant-in-a-bookstore' at the relocated Barnes & Noble.
Egan has brought many mechanical and electrical solutions to the Owner at all phases of the project, including suggested grease interceptor piping routes, water feature plumbing, and recommended rework to existing and new electrical panels for tenant requirements.
-David Kray, Kraus-Anderson Senior Project Manager
Project Team: Kraus-Anderson Construction, Hines Property Management
Egan Services Provided: Cooling tower upgrades, pump system replacement, mechanical system build-outs, millwright services, electrical infrastructure, fire alarm, phone/data, access controls, security system, and 24/7 maintenance