News
PCL Safety Champions
May 2, 2017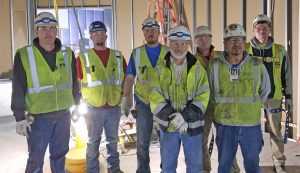 Onsite top honors! Congratulations to Plumbing Field Leader Mike Aitkin, on being recognized as this month's Safety Champion at the Grand Casino-Hinckley and Mille Lacs expansions.
A second congratulations to the Egan crew at the Grand Casino-Mille Lacs expansion. Under the leadership of Sheet Metal Field Leader Ed Holmgren and Plumbing Field Leader Dustin Hochhalter, we have been recognized and selected as this month's Safety Crew on site!
Thank you for continuing Egan's safety commitment on all jobsites, and thank you to PCL Construction for recognizing our safety efforts.
Together, Safety Brings Us Home