News
Discover Egan: Smartlift
October 25, 2017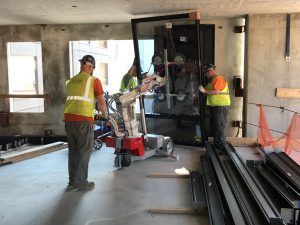 Designers in the glass industry are specifying larger glass units and pre-glazed windows for today's buildings. Though aesthetically pleasing, these large pieces of glass can be extremely heavy to handle for installation. However, Egan's InterClad team is prepared thanks to our investment in four of Smartlift's 380 Midi's – or as Smartlift affectionately calls it, one of its "highly efficient glazing robots."
"The purpose of the Smartlift is to safely handle large, heavy items our tradespeople cannot on the projects where larger pieces of glass are involved," said Tim Woolworth, Egan Company/InterClad Senior Vice President. "This helps prevent possible injuries that we are at risk for in our industry."
Smartlift is the market leader and developer for intelligent lifting devices. Characteristics of the robot include:
Four suction cups to lift the large, heavy items
Hoist and move items up to 840 pounds (380 kg) over any surface
Multi-tasking capabilities: drive, hoist, extend, and tilt the attached glass unit simultaneously
A few of our projects that have utilized our Smartlifts:
365 Nicollet
Legacy Condominiums
University of Minnesota Athletes Village
InterContinental Minneapolis-St. Paul Airport
The precision and safety of the Smartlift robot provides Egan an opportunity to increase accuracy and continue installing large glass units found on more and more buildings around the U.S.
Learn more about our InterClad team.