News
A Decade of Safety Recognition
June 20, 2017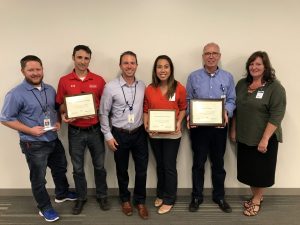 For the tenth consecutive year, Egan was awarded multiple Governor's Safety Awards by the Minnesota Safety Council for its commitment to workplace safety and health.
Egan received two Meritorious Achievement Awards recognizing incident rates that are better than the industry average for at least three years, and a score between 50 and 74 on a 100-point safety program evaluation program scale.
In addition, Egan was one out of 108 winners of the Outstanding Achievement Award, which recognizes exceptional efforts in implementing a comprehensive safety program and the excellent safety record we have achieved as a result.
"Recognition is always great, but that isn't why we have a strong safety culture at Egan," said Larry Hanson, Egan Company Safety Director. "Dedication to our safety culture starts at the top, and we are very fortunate to have leaders that are committed to providing a safe workplace for every Egan employee."
Egan was one of approximately 250 Minnesota companies recognized at the Governor's Safety Awards luncheon this year. To read more about the evaluation scorecard and award categories visit Minnesota Safety Council's website.