News
Give a little, Lift a lot
June 9, 2017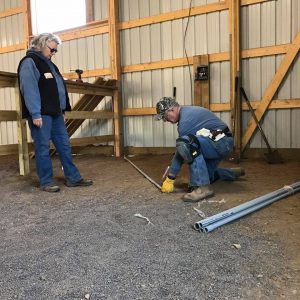 "Convenient, more comfortable, and so cool," –words Patti Franz, Stable Pathways Director, uses to describe the new scissor lift donated by the Fridley Lions Club and Egan Company. Stable Pathways is a nonprofit program providing horse-assisted activities for people living with physical and cognitive challenges.
Operating out of Oak Haven Farm in Oak Grove, Minn., Stable Pathways is home to six therapeutic equines – including three horses and three big ponies, and a small staff made up of mostly volunteers. Since opening its doors in 2009, Stable Pathways has grown from three clients to now roughly 40-60 clients.
Due to this growth and varying needs of its clientele, it became evident that a more systematic way to mount and dismount from the horses was necessary to help limited-mobility riders. Prior to this lift, volunteers were manually lifting these riders on and off the horses – a process Franz says was "awkward and taxing" for all parties involved.
In order to help raise money to purchase a custom-made, push-button controlled lift, Stable Pathways began the "Lift Us Up" campaign. To help their efforts, the Fridley Lions Club gave a partial donation to the nonprofit in 2016; then in March 2017, the fundraising efforts came to full fruition when the Lions Club completed their sizable donation allowing Stable Pathways to move ahead with their purchase.
To help construct this 4×7 square-foot platform, Egan donated the required materials and permit to install it at Oak Haven Farm. Don Fehringer, Egan Company Electrical Journeyman and dedicated volunteer for six years at Stable Pathways, provided the labor to do the disconnect and power feed for the lift. All of the construction finished in early May and was ready for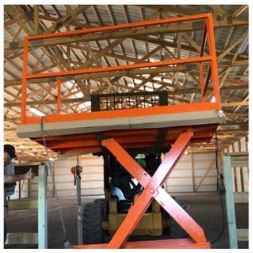 riders and volunteers (and horses!), to begin instructional training by the end of spring 2017.
"Egan's and Don's sponsorship of the permit and materials has been tremendous for us," said Patti. "We wouldn't have this [lift] otherwise. It is great for our staff, the horses, and every client that rides at Stable Pathways."