News
Together, Safety
Brings Us Home
April 14, 2017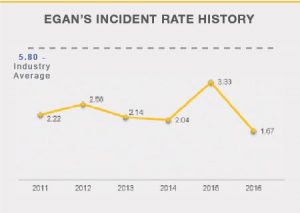 Empowering employees is the key to ensuring safety on all jobsites, and it's something Egan Company takes to heart with its Safety Brings You Home program. The intention is to make any employee – from apprentice to field leader to project manager – feel comfortable speaking up when they see something risky or unsafe onsite or even in the office.
As 2015 came to a close, Egan's incident rate was the highest it had been in five years at 3.33. While it was significantly lower than the industry standard, our ultimate goal is ZERO injuries, so 3.33 was too high.
As a result, Egan's Leadership, Safety team, and other key partners took a step back to evaluate and create a plan to reduce our incident rate. Egan's long-standing safety program was expanded, further promoting safety on jobsites and in the offices.
Egan's safety program has everyone working together for one common goal: going home safe. The biggest improvement made in 2016 was the standardized morning stretching routine. In addition to warming us up and getting us physically prepared for work, it is a great mental transition into a safety mindset to carry you through the day.
– Paul Hartman, Egan Company Electrical Field Leader
At the start of 2016, Egan employees on all jobsites and in all offices signed a safety pledge – pledging to work and live safely. Additional safety resources were provided for employees to increase their knowledge throughout the year.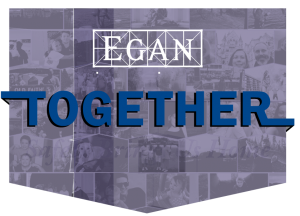 Highlights of these efforts include:
Increase in available online and hands-on safety courses like CPR/First Aid, OSHA 10, OSHA 30, and Defensive Driving
Modified new hire orientation to emphasize safety commitment, including a follow-up orientation for field/shop employees within 30 days of hire date
Project managers more actively involved in the Continuous Improvement Observation and Safety Lunch programs
Lastly, a photo contest was held – employees were encouraged to submit pictures depicting what makes them work safely and get home at the end of the day. With an overwhelming volume of
submissions, all photos were incorporated into jobsite posters to remind us all what motivates us to work safe.
With these added safety efforts, employees were given the tools and knowledge to feel comfortable speaking up. It also added some excitement and energy into the safety program.
"After recognizing the need to lower our incident rate, I'm proud to say Egan ended 2016 with an Incident Rate of 1.67 – our lowest in the history of the Company," said Larry Hanson, Egan Company Safety Director. "We continue our commitment to safety, and are continually looking into new efforts that give our employees every opportunity to advance their knowledge to stay safe and work toward our goal of zero injuries."
For 2017, Egan is continuing efforts to support safety advocacy, both at home and on the job. Safety benefits us all, and our focus will continue on safe driving, preventing soft tissue injuries, and increasing the safety knowledge with employees and their families.