News
Summit Brews in Newest Expansion
June 9, 2015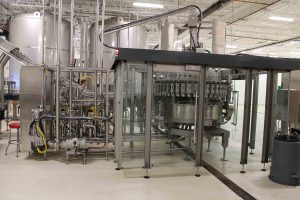 The Summit Brewing Company has seen popularity and demand skyrocket in recent years. Though they're well-known for producing craft beer, they are by no means a small operation. The Summit headquarters in St. Paul, Minn., is the 28th largest brewery in the U.S., and it's where Egan recently completed a revamp of electrical infrastructure for their newest expansion.
Summit began their ambitious development initiative in 2012, which included construction of a brand-new cellar (prior to Egan involvement) and then the purchasing and repurposing of an adjacent facility. The refurbished facility contains several new additions, and the entire electrical layout needed to be rearranged to accommodate the new equipment.
"Summit leaned on us to make the facility mesh together well," said Mitch Schanus, Egan Company Foreman, "which is crucial when you're looking to house an office, bar, and brewery environment in one building."
When Summit's primary electrical person retired several years ago, Egan was brought on thanks, in part, to an old connection. Egan Project Manager Randy Kalthoff and Summit COO Tom Thomasser had worked on a construction project together twenty years earlier in La Cross, Wisc. Kalthoff recognized the name on a project bid and reached out soon after.
"Tom and the Summit team started with a pretty general layout in mind for the building," said Kalthoff. "Our expertise helped fill in the gaps to get them the most out of the space available."
Egan worked with Summit's broad specifications to essentially design and build the entire facility's refurbishments.
The grand opening for the revamped facility took place in April, with Egan and Summit employees, beer enthusiasts, and St. Paul Mayor Chris Coleman in attendance. All of Summit's facilities now receive regular maintenance from Egan electricians, a pleasant task when paired with a quick trip to the beer hall after a hard day's work.
The Summit Brewing Project is a refurbished, 40,000 square foot, industrial/office facility with 3.5 acres of land. The work entailed complete rewiring, upgraded main service, new LED lighting, and a remodel of infrastructure for the office, training room, kitchen, and bar areas.
Egan Services Performed: Design-build of electrical infrastructure.