News
Becoming America's Safest
June 8, 2015
The construction industry's stance on workplace safety has drastically changed in the past century. Increased demand for safer work environments has led to many innovations, new legislation, and a noticeable drop in workplace injuries/deaths.
Egan has set the standard for other contractors to follow. By having Personal Protective Equipment (PPE) mandatory 100% of the time, it shows that everyone wants to see us return home safe to our families every day.
– Paul Hartman, Egan Company Electrical Foreman
These trends are encouraging, but there is no such thing as an ideal ratio. You can't measure a tragedy's impact by how many times it occurs, and citing statistical improvements does nothing to subdue the personal impact of a work-related injury or death. The only positive result comes from finding the will to do better by expanding the role of safety.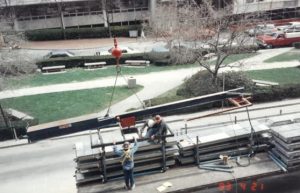 Egan Company first established a safety department in 1986. Having been founded in 1945, it may surprise some that Egan had gone over forty years without a dedicated safety program.
"There was widespread recognition of the seemingly inherent risks to construction back then," said Larry Hanson, Egan Company Safety Director. "Some larger projects even had the predicted 'acceptable' number of deaths calculated beforehand in the scope."
Getting hurt was a given, entrenched deep within the minds of those who worked in construction. To give you an idea, here is an excerpt from the American Electricians' Handbook (published in 1932) about testing circuits for voltages: "The presence of low voltages can be determined by 'tasting…If voltage is present, a peculiar mildly burning sensation results, which will never be forgotten after one has experienced it."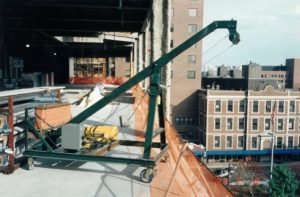 The construction industry's safety expectations thankfully changed, and so too did Egan's.
Egan has evolved a "zero-injury" policy. This more aggressive stance pushed the company to internally develop a proactive approach to safety, including initiatives like pre-workday safety plans, 100% eyewear/gloves, and the blue hardhat program for new employees.
Egan's safety department continued to develop beyond focusing solely on compiling impressive statistics, unveiling a new program identity, "Safety Brings You Home," that emphasizes Egan's focus on protecting people.
[Egan's] safety program goes above and beyond all programs I have seen in my 20 years on the job. When we work with other contractors, they often adopt our standards, making the job a safer environment for all.
– Shawn Collette, Egan Company Pipefitter Foreman
It marked the start of a transformational era for the company. Egan's Incident Rates has progressed from 7.71 (2000) to 2.04 (2014).
This past year, Egan was named one of America's Safest Companies by Environmental Health & Safety Today magazine in recognition of sustained safety excellence beyond industry expectations.
Egan continues to move forward in the belief that work-related injuries are preventable, but we can never claim to control all the variables. What we can control is how we collectively work together and support each other to promote safety.