News
Safe Subcontractor of the Year Awarded by Ryan Companies
August 10, 2018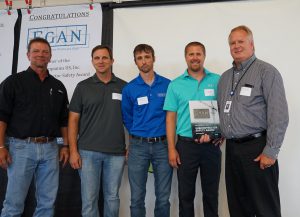 Safety continually shapes how we do our job at Egan. Every day, on every job, safety remains the highest priority.
However, this culture of safety didn't happen overnight, on one project, or in one year. It's been built on a commitment spanning across decades. A commitment we are proud to share with other industry leaders who value safety as much as we do.
Recently, Ryan Companies recognized Egan and named us its 2017 Safe Subcontractor of the Year. This award was voted on by Field Managers and Project Managers at Ryan Companies and was based on various criteria—from safety program enforcement to creative solutions for safety.
We are honored to have received this award – and thankful for the generous donation Ryan Companies made to Toys for Tots on Egan's behalf as part of the recognition.
Pictured above (L to R):
Scott Beron, Ryan Companies
John Gaddini, Ryan Companies
Nick Ravetto, Egan Company Safety Coordinator
Luke Piram, Egan Company Project Manager
John Reber, Egan Company Vice President