August 16, 2018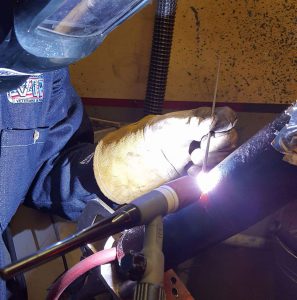 For many active duty military members, transitioning out of the service can be daunting. Finding housing, employment, and acclimating back into the routine of daily life is a huge hurdle to overcome. And, although disciplined and highly-trained, many military members still struggle with unemployment.
To help ease this process and address the growing shortage for skilled construction workers, the United Association Veterans in Piping (VIP) Program was created. This 18-week program prepares active-duty military members to leave the service with sought after skills that can lead to lifelong careers in the increasingly high-demand pipe trades.
Specifically, the nationally recognized program trains and transforms heroes into Union Plumbers, Pipefitters, Welders, and Service Technicians.
Ricky Martagon, Egan Company Pipefitter Apprentice, first heard about VIP at an exit seminar he attended was transitioning out of the United States Marine Corps.
Martagon served in the Marines for four years prior to joining Egan and obtained the rank of E5 Sergeant, as well as Shop Chief for his platoon. Though an admirable rank, he's the first to admit he continually reminds himself his previous title now holds no "authority" on the construction site.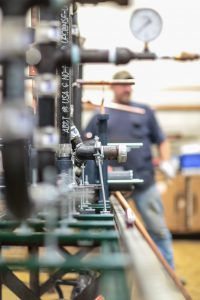 "At times, it is a little confusing for me, but a lot of the habits from the military are still very transferable to my new career," Martagon said. "I still would do them every day with or without rank."
Nonetheless, the shift from protecting the country to helping build it has been a natural fit for Martagon and 1,000+ other veterans that have gone through the VIP program since 2008.
"My experience [with VIP] couldn't have been any better. The people were great, and the instructors were even better," said Martagon, "By the time we finished the program, we were all good friends. I strongly encourage more service men and women to look into the course."
Martagon has been with Egan since early this year and is one of two VIP pipefitters currently with the company.