News
Protecting Lakes and Streams
June 7, 2016
For years, Minnesotans have been on alert for the spread of invasive species in all beloved lakes and rivers. Those enjoying the water – boating, fishing, or hunting – are told to follow stringent practices for cleaning their watercraft to prevent the spread of the plants, fungi, and other organisms. These can be detrimental to the waters that are such an integral part of Minnesota's culture and ecosystem.
In March 2016, the University of Minnesota opened the newly renovated Minnesota Aquatic Invasive Species Research Center (MAISRC) on the St. Paul Campus. Funded by the state legislature, the Clean Water Fund, and the Environment and Natural Resources Trust Fund, the 8,300 square foot, state-of-the-art lab allows researchers to do work that was never before possible, with more than 20 dedicated, specially filtrated tanks for species like zebra mussels, fungi, and Asian Carp.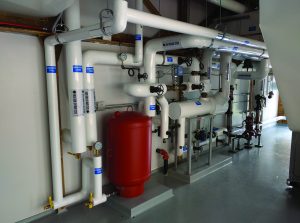 Egan Company installed over 13,500 feet of piping, allowing well water to be filtered for iron and other impurities before it reaches the tanks. More importantly, a wastewater treatment process allows the waters to be safely returned to the sewer system. This means that researchers can now safely monitor potential threats to see if the organisms can withstand a simulated Minnesota climate and the effect that they may have on the indigenous aquatic ecosystems, should they be introduced.
"This project was equally unique and challenging," said Chuck Roberts, Egan Company Mechanical Field Leader. "We used a lot of specialized parts that we've not worked with before – it was complex, but McGough and our people pulled it off – it was very rewarding to see something like this come together."
With these new research capabilities and the cooperation of the general public, it is hoped that Minnesota's lakes and rivers can be healthy for generations.
Core Project Team: McGough Construction, University of Minnesota, Burns & McDonnell
Egan Services Provided: new HVAC system, steam/hot water exchange, hot water piping, lab and filtration equipment installation