News
Mechanical Shops Expansion
June 8, 2016
Over 70 years ago, Egan Company began as a plumbing and heating contractor. The sheet metal trade was added in 1958. Since this era, Egan has invested in its fabrication shops to provide fast delivery of custom-built mechanical systems to its customers.
With the advent of Virtual Construction practices, investment in fabrication shops has become even more important to the industry. When properly implemented by the entire project team, Virtual Construction allows Egan to "manufacture" piping, plumbing, and sheet metal components in its shops-under ideal conditions and with great efficiency. These components can be stored away from the jobsite and delivered just-in-time for field erection. The result: a lower cost building built over a shorter schedule.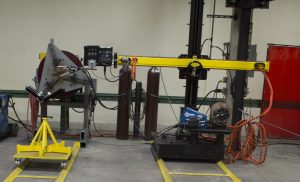 With the recent relocation of the warehouse and service garage functions to its new Champlin facility, Egan acted on the opportunity to expand and renovate its mechanical fabrication shops for increased productivity while also creating a safer environment for employees.
"Any task we can perform in our facility, under controlled conditions rather than on the jobsite, is a win for our customers," said Mark Habermann, Egan Company Manufacturing Manager. "We've expanded our shops with the purpose of integrating all shops into one . . . we opened walls to promote the sharing of resources and foster collaboration across all trades."
Trades served by the expanded shop space include sheet metal, piping, plumbing, and millwrights.
MECHANICAL FABRICATION UPGRADES:
Expansion to 50,000 square feet of production space
New Stinger pipe cutting machine
New Jimmy Jammer semi-automatic pipe welding system
Five (5) new jib cranes for safer material handling
Two (2) new hydraulic lift tables
New Axxair stainless steel pipe cutting machine
New cast iron pipe cutter
Rearranged equipment for improved production flow
Additional space for storage of fabricated components away from the jobsite