News
Future of Buildings Has Arrived
September 28, 2016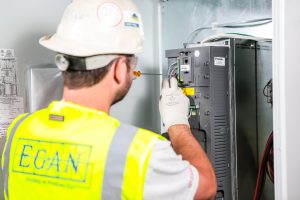 Much of pop culture's imagination of the future includes homes and buildings that perform tasks automatically, often without having to lift a finger. Lights that can sense occupancy, temperatures that are always just right, and building security without having to turn a key in a lock – these all sound like something from The Jetsons. But this is the reality in the newly developed "East Town" area of Minneapolis.
The arrival of U.S. Bank Stadium brought with it the opportunity to enhance the surrounding blocks with a common green space, multi-family housing, light rail transit service, and a 1.1 million square foot blend of beauty and brains: sleek architecture run by a cutting edge Intelligent Building Network – the Wells Fargo Towers.
With an intelligent system architecture provided by Egan Company as an automation backbone, the two buildings are connected by a network platform that controls building automation, lighting control, sound masking, and all mechanical systems.
"Egan's prowess in systems integration has added much-needed confidence and expertise to a complicated project. The project team has exceeded expectations in design, coordination, and field operations alike," said Mike Beadle, Ryan Companies Project Manager. "Egan has been, and will continue to be, my first choice in the industry to deliver reliable, intuitive building management and intelligent building solutions."
Wells Fargo employees now have an intuitive comfort control system that monitors security and adjusts lighting and temperature as a room becomes occupied. Behind the scenes, building operators have access to extensive real-time analytics for all systems, providing an immediate way to evaluate performance and efficiency and make adjustments if needed. This keeps the energy usage on track, provides high indoor air quality, and efficiency of water.
These things, along with the design, location, and access to public transportation, helped earn the project a LEED Platinum Certification.
"This project has raised the bar company-wide for future builds," said Jeff Sowden, Egan Company Senior Account Manager. "Intelligent buildings are the future and we couldn't be more excited to do the next one."
Project Team: Wells Fargo, Ryan Companies, EDS
Services Provided: Intelligent Building Network architecture, building automation system.