News
Egan Named One of America's Safest Companies
September 22, 2014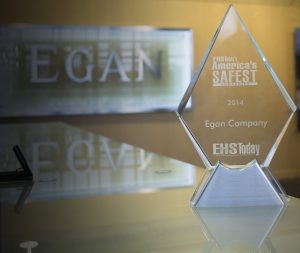 MINNEAPOLIS, MN (September 22, 2014) – EHS Today selected Egan Company as one of America's Safest Companies for its commitment to worker safety and health.
The America's Safest Companies Class of 2014 represent safety excellence and come in all shapes and sizes, from firms with a few dozen employees to multinational corporations with tens of thousands of employees. And they have one thing in common: They believe there's nothing more important than protecting their workers, the environment, and the communities in which they operate.
"Safety is woven into every aspect of Egan's culture," said Larry Hanson, Egan Company Safety Director. "A common sentiment is that construction is a dangerous business and accidents are bound to happen. Our company's approach will never accept this view as the standard. Safety is a top-to-bottom priority here at Egan."
Egan Company maintains an ongoing, aggressive commitment to provide all employees with a safe and healthy place of employment. Through its safety program, on-going safety training, safety policy and practices, and a full-time safety team, employees are given knowledge and skills to ensure their own safety in the workplace.
"Our motto is 'Safety Brings You Home,'" said Jim Malecha Egan Company President & CEO. "Several years ago, we looked at adopting slogans like 'Zero Injuries' or 'Target Zero.' We felt these concepts were more about statistics than about our employees. We wanted a saying that emphasized to our employees that safety was about them and their families."
All award recipients will be honored at EHS Today's Safety Leadership Conference in Indianapolis on October 28. A feature will be published in a special section in the November issue of EHS Today magazine.
About Egan Company
Egan Company is a specialty contractor that represents over 15 skilled trade unions serving virtually every infrastructure discipline in the industry. Core services include: electrical, mechanical, millwrights, industrial and building automation, curtainwall/glass, and service. Egan serves every stage of a building and provides in-house expertise in planning, design, building, and maintenance. Egan's OSHA Recordable Incident Rate was 2.13 for 2013, which is substantially below the average rate of 6.80 for specialty trade contractors in Minnesota. For more information, visit www.eganco.com.
About EHS Today
EHS Today, formerly known as Occupational Hazards, is a part of Penton Media, Inc. The publication informs safety, health, and industrial hygiene professionals in the manufacturing, construction, and service sectors about trends, management strategies, regulatory news, and new products that help them provide safe and healthy work sites. Since 2002, America's Safest Companies has honored 174 organizations for their unwavering commit­ment to worker safety and health and environmental stewardship.
# # #
 Media Contact:
Jessica Johnson  //  jkjohnson@eganco.com  // 763-595-4310