News
Drain Clogs Happen – Don't Let It Interrupt Your Operations
September 21, 2016
Keep your operations flowing without interruption
Clogs happen, but they don't need to slow down your business operations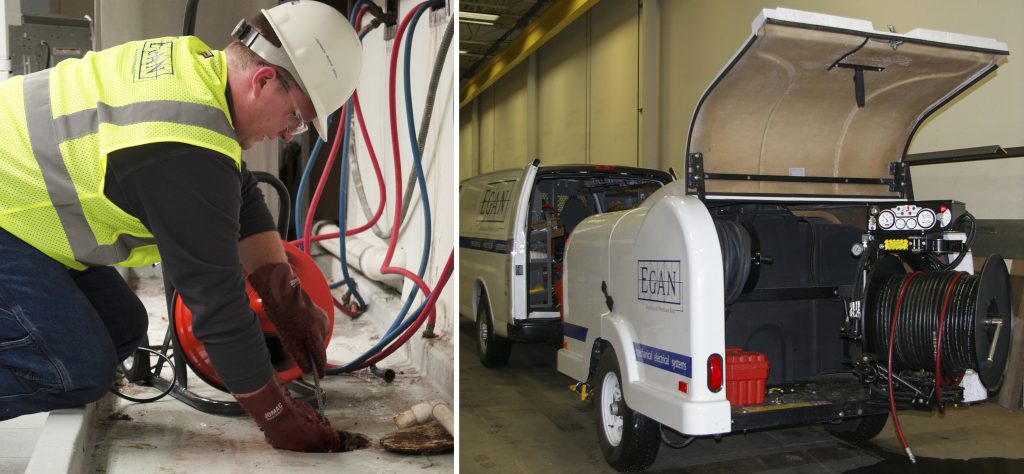 If you manage buildings, ensuring your drains are clear is messy business. But with routine cleaning, you shouldn't have to worry about costly drain clogs.
With Egan Company's customized preventative maintenance plans, we'll regularly dispatch a trained technician with camera inspection equipment to ensure your drains – and mind – are always clear.
But don't take it from us – here's what one of our customers said.
Mike really helped me out with an oil leak from one of a trucks that ended up in our sump and trench drain in the loading dock at Centennial Lakes Office Park. Mike was able to get the sump pumped out and the trench drain cleaned out that day. Mike did a great job for us in this emergency situation that, not only saved us money, but avoided additional impact and problems from the oil spill.

– Chief Engineer, Centennial Lakes Office Park
Val [Egan Field Leader] is always there if we need him in an emergency and from a safety standpoint, all other vendors should follow his lead. Our thanks to Egan and Val for the great service this year!
- TURCK | Facilities & Safety Manager
Joel [Egan Field Leader] has been fantastic to work with on the installation of the GE chiller. I appreciate his quality work throughout the installation and the updates he provided on the progress. Joel's attention to detail has helped to ensure that the new chiller will meet our requirements now and into the future by identifying issues and working through them to implement robust solutions.
- GE Power & Water | Senior Process Engineer