News
Cultivating The Art of Food
August 1, 2017
With an abundance of fertile farm land and innovative revolutionaries, Minnesota has been a force to be reckoned with for centuries in the agricultural and manufacturing industries. In the early years, farming was all done by hand, with a little help from heavy and difficult-to-operate machinery. Over the years, new inventions have made farming significantly easier, including the use of hydropower in watermills to increase grain production in Minneapolis (aka the "Mill City").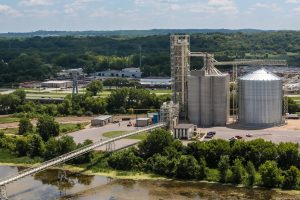 With these new innovations, farmers were able to produce and distribute crops at a more rapid pace, creating a need for more automated processes. To fill this need, many of Minnesota's largest companies began to revolutionize the food industry even further by making production simpler and more automated.
Industrial and manufacturing facilities began cropping up to help provide food globally. Most of these facilities were primarily in the southern part of the Twin Cities due to the close proximity to existing grain production facilities and river access. As the industry has exponentially grown, Egan Company has steadfastly provided its multi-trade services to grow customer business and enhance production in numerous facilities across the Midwest.
Today, food production follows a standard process –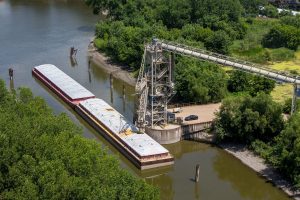 production on a farm/ranch, processing in a manufacturing facility, distribution to stores/restaurants, and consumption at a home/restaurant. But there's a lot that goes into the processing step that many people don't realize. Equipment needs to frequently be moved or upgraded, production lines require routine maintenance, facilities are expanded – and that's when Egan Company is called.
Recently, Egan Company trades provided TreeHouse Foods upgrades to a private label food processing facility.
In May 2016, a building addition was added onto the existing facility. Egan provided underground plumbing and HVAC for the new space, with piping and sheet metal prefabricated in Egan's Mechanical Shops. Once construction was complete, two, fully-functioning production lines were assembled for making and distributing snack foods across North America.
The teams worked alongside each other to install each piece of equipment for the production lines. Millwrights rigged, assembled, and precisely aligned the equipment, while process controls electricians followed up with the electrical installation for each piece of equipment.
"Working with other Egan trades is great. From my experience, customers enjoy having multiple trades with Egan on the same jobsite. They see a safe and clean environment with excellent communication."
-Cole Witteman, Egan Millwright Field Leader
In addition, the control panels for the kitchen and conveyance systems were prefabricated in Egan's U.L. 508A Panel Shop, then installed onsite to integrate with the existing system. Along these production lines, robot arms were installed by millwrights to pack and move the snack food along through production. These robots are programmed to be compatible with the control panel at each station of the line.
For industries like food production, Egan's willingness to help other trades succeed and our in-house, multi-trade collaboration is an advantage unmatched by competitors.
Project Team: TreeHouse Foods
Egan Services Provided: Chilled water piping, plumbing, sheet metal exhaust duct, electrical installation, PLC/HMI programming, CAD, robot assembly and installation, cat walks, precise alignment & equipment moving, conveyance, electrical controls, and routine plant maintenance.