News
Bringing fans to their feet
October 3, 2016
Towering nearly 30 stories high and covering about 200,000 square feet of the stadium's exterior, the reflective glass and curtainwall of U.S. Bank Stadium is hard to miss. The interior boasts a flood of purple and gold, lush green turf, and multiple LED video boards. Football fans will be able to experience this all firsthand during the Minnesota Vikings' first season at the new stadium.
The 1.75 million square foot facility will serve as the Minnesota Vikings' official home, and also stands as a testament to the hard work of thousands of people, including Egan employees, who worked on site and behind the scenes to install the stadium's curtainwall, glass/glazing, pivoting glass doors, and numerous LED displays inside and out.

Reflection of Our Work
The curtainwall boasts five operable walls/pivot doors spanning up to 95 feet high and controlled by hydraulic levers. These doors are able to shield spectators from harsh Minnesota weather when closed, while providing fresh air and exposure to the outdoors when open. Built into these doors are smaller storefronts – 10 for every larger door – which allow entry in all seasons.
In addition to installing 200,000 square feet of curtainwall, more than 5,000 pieces of glass were installed, some spanning over 200 feet tall and inverted at a 24 degree angle.
On sunny days, a distinct reflection of the Minneapolis skyline can be seen on the glass' surface. Not only does the stadium show a mirror image of one of Minnesota's most iconic cities, its unique architecture and design also serves as a reflection of the personality and identity of the community that surrounds it.
Engineering challenges related to the unique geometry of the curtainwall required careful consideration and planning throughout the project; scheduling and jobsite limitations made the role of prefabrication and coordination even more critical.
"The Vikings stadium has more unique geometry than we'd seen on past projects, and to a larger scale," said Deb Linquist, Egan Company Senior Project Manager. "Through our quality control process, and our upfront work in the office, it was very critical that we provided proper fabrication packages with dimensions and details to the shop."
The hard work paid off – Egan's InterClad team won Glass Magazine's Most Innovative Curtainwall Project for the stadium in July 2016.
Display of Collaboration
Inside the stadium, fans can watch 60-foot tall football players bound across an enormous video board more than 8,100 square feet in size. The display is the stadiums' largest, and the tenth largest scoreboard in the NFL. At 68 feet high and 120 feet wide that's enough space to park about one-and-a-half F-22 fighter jets.
Unlike other stadiums around the country, U.S. Bank Stadium does not have video boards hanging from the ceiling. Doing so would have compromised the amount of natural light and the indoor-outdoor feel the stadium provides.
Instead, they are installed significantly lower than most video boards in the NFL in order to allow fans to easily look from the field to the board, regardless of where they are sitting.
Partnering with S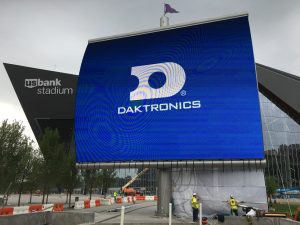 outh Dakota-based Daktronics, Egan installed more than 25,000 square feet of LED displays, including 19 LED video displays with 13HD technology that provides crisper and more vibrant images to the fans. The total square footage of LED displays is the most in the NFL.
In addition to the interior displays, Egan installed an outdoor marquee display, and a first-of-its-kind sail-shaped exterior video display that tops what the Minnesota Vikings call the "Legacy Ship."
Our Stadium
The largest public works project in Minnesota history, U.S. Bank Stadium took 3.5 million man hours to complete – a massive undertaking equivalent to 1,700 years of full time work for one person. Throughout its construction, the project sustained the families of thousands of workers – and will help define the Minneapolis skyline for years to come.
It has helped bring major events to our state, including superstar concerts, charitable events, and Super Bowl LII in 2018. And many local restaurants and businesses now have the opportunity to provide their goods to a new audience base.
Take the "bank" out of U.S. Bank Stadium and you get a building named for us – not just the Vikings, or even the workforce that came together to turn the stadium into a reality, but all Minnesotans – and you don't have to be a football fan to appreciate that.
Project Team: Minnesota Sports Facilities Authority, M.A. Mortenson Construction, Daktronics
Services Provided: Curtainwall, glass/glazing, and communication and electrical systems for electronic video displays.