Break new ground on your future
At Egan, we pride ourselves on our family-oriented environment. As a company, we strive for excellence and take pride in the diverse work we do. We provide support and care about each other's growth and development. Are you ready to join our team and build on promises kept? You'll become part of a team of crafters, thinkers, and achievers who never stop growing and enhancing their skills.
We're always looking for bright, innovative, and savvy team members to help take Egan to the next level. We often have opportunities in construction management, mechanical engineering, electrical engineering & other sectors. If you're interested in a career with exceptional opportunities and outstanding benefits, please take a look at our current openings.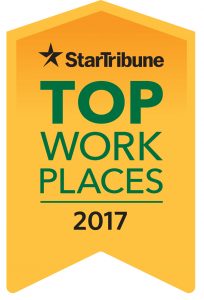 Current Job Openings
We have been very fortunate to work with several great Egan services - from plumbing, electrical, automation, and HVAC. It has been, more or less, a seamless project from the start. Moving forward, I would like to upgrade and add more to that system, encompassing the entire data center and building monitoring.
- Confidential Data Center | Facilities Engineer
We would like to recognize and express our gratitude to Brian [InterClad Site Superintendent] for his recent efforts at U.S. Bank Stadium. We worked closely with him to troubleshoot and maximize the operation of the provided door controllers. Brian was instrumental during this effort and should be commended for his proactive problem solving and diligent work efforts. These efforts were a critical component in obtaining our certificate of occupancy from the City of Minneapolis.
- Mortenson Construction | Senior MEP Engineer
I wanted to let you know the entire Egan team working on the Securian turnstiles project has been spectacular. The project entailed furnishing and installing optical turnstiles for entry. They all had great attitudes, despite the need to work after hours, and have gone above and beyond to make sure we are happy with the finished product. Please pass along my thanks to your team for a job well done!
- Securian Financial Group | Corporate Security Systems & Tech Specialist
I want to extend my thanks to Egan's project team for the work completed on the lab controls at the North Hennepin Community College (NHCC) Science Building. This was by far the best thought out and subsequently executed project that I have been involved with in the last two years. Egan's team exuded professionalism from start to finish. On behalf of the college, thank you for a job well done!
- North Hennepin Community College | Director of Facilities Services

America's Safest Company Award
Recognized as one of America's Safest Companies, Egan demands safety at every turn. We invest significant resources into employee training and jobsite safety.
Safety First