News
Work at U.S. Bank
Stadium Leads to
a Trip-of-a-Lifetime
September 7, 2018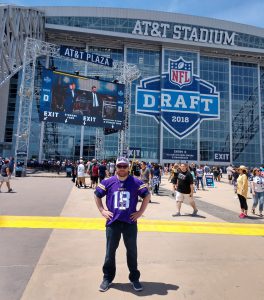 A dream came true for a football fan last April when Jason Lindula, Egan Company Safety Coordinator, was gifted a trip-of-a-lifetime.
Last spring, while renewing his tickets for this upcoming season, Lindula had the chance to enter a members-only drawing to win the ultimate 2018 NFL Draft experience. Not thinking twice about it, he opted in.
A few weeks later, he received a phone call he'd never forget – he had won!
The prize included an all-expenses-paid, five-day trip to Dallas, Texas to view the draft from VIP seating. And, even better, announce the Vikings late-round pick, Devante Downs, on national television.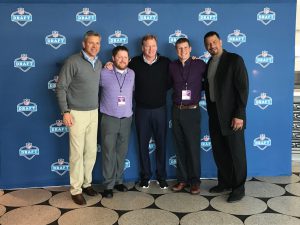 Lindula joined the Egan team three years ago as Egan's lead safety professional at U.S. Bank Stadium – home of the Minnesota Vikings. A long-time fan of the game, Lindula was inspired to become a season ticket holder after the time he spent at the stadium throughout the construction process.
Lindula particularly enjoyed connecting with fellow football fans from across the country and the opportunity to meet NFL Commissioner, Roger Goodell, and other NFL legends. The experience was truly unforgettable.
For photos and more information on Jason's trip visit this link: bit.ly/NFLDraftArticle