News
Virtual Flight Ride Experience Takes Flight at MOA
June 3, 2016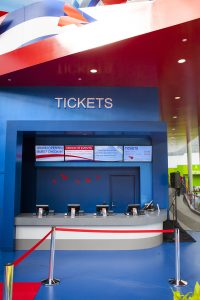 A brief vacation awaits you at the Mall of America where you can now view some of the country's most breathtaking locales at the mall's newest attraction, FlyOver America.
A ride like FlyOver America requires complex controls, equipment, and a lot of moving parts. "Everything has to communicate with each other … it's like a symphony of many devices working in concert with each other to make the ride work as a whole," said Elliott Olson, Egan Company Project Manager.
There's more to the attraction than meets the eye, or the ear, or—the nose. Partnering with Mortenson Construction and FlyOver America Ltd., Egan Company installed the special effects devices that transform FlyOver America from a complex flight simulator into a true virtual flight experience with custom scents, wind, and even mist to tantalize riders' senses during their 10-minute adventure.
Multiple trades within Egan were able to work in tandem to provide a cohesive experience for the customer that included installation of A/V equipment, communications and data wiring, and electrical power to the ride.
"We covered the work of four or five individual subcontractors on this project," said Olson, "I think it's a perfect example of what sets Egan apart from others."
The ride itself is comprised of three levels, making navigation a unique challenge that required good planning, communication, and coordination among project teams.
Egan's work on the project began in November 2015 and the ride officially opened on April 6, 2016. Even with the challenges posed by the project, Egan Company was able to deliver multiple scopes on a one-of-a-kind project.
"Working with the Egan team was fantastic," said Eric Sambell, FlyOver America Ltd., Director, Construction & Technology. "It was great having one point of contact with Elliott Olson who was then able to communicate any changes to others on the team."
Egan Services Provided: communications and data wiring, electrical power distribution, special effects installation, A/V installation